SU Honored for Campus-Community Engagement
The numbers speak volumes: more than 11,000 Syracuse University students engaged in 500,000 hours of service in collaboration with schools, neighborhoods and nonprofit organizations.
They are creating art with youngsters through discussions on diversity, working with start-up businesses and helping plot community gardens to improve food access, just a few of the 450 service courses, projects and initiatives in support of the University's vision of Scholarship in Action.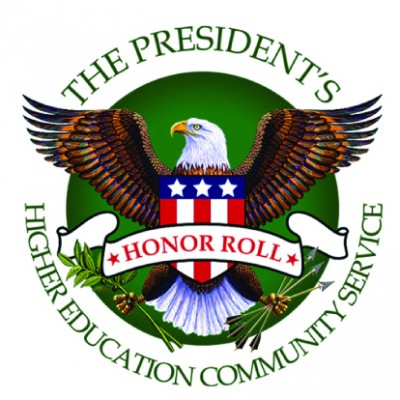 In recognition of those significant efforts last year in helping impact communities, Syracuse University was named to the 2013 President's Higher Education Community Service Honor Roll with Distinction. The honor roll, launched in 2006 by the Corporation for National and Community Service, acknowledges higher education institutions that reflect the values of exemplary community service and achieve meaningful outcomes in their communities.
The 2013 honor roll recipients were announced at the American Council on Education's 95th Annual Meeting on March 4 in Washington, D.C.
Syracuse University, which has received this recognition with distinction each year since the program's inception, was one of only 10 institutions in New York State to be named to the President's Higher Education Community Service Honor Roll with Distinction this year.
"Every year, I am always overwhelmed by the number of different projects that students, faculty and staff are doing in and with the community," says Pamela Kirwin Heintz, associate vice president for engagement and director of the Mary Ann Shaw Center for Public and Community Service. "It's become very integral to what we do as an institution."
More than 8,000 students were engaged in academic service learning and another 3,100 students were involved in co-curricular service—60 percent of the student population working and learning alongside community members last year. The total number of hours was more than 525,000.
The numbers also include 500 faculty and staff involved in supporting curricular and co-curricular engagement, and hundreds of community partners and collaborators with every college on campus and in local, regional and global SU programs.
"Syracuse University's continuing distinction on the President's Higher Education Community Service Honor Roll reflects the degree to which engagement is embedded in our campus culture," says SU Chancellor and President Nancy Cantor.  "Our students, faculty and staff today carry forward SU's longstanding legacy of building and advancing the two-way street of collaboration and knowledge creation with cross-sector partners and community members—a distinctive legacy of serving the public good."
[quote style="boxed" float="right"]Every year, I am always overwhelmed by the number of different projects that students, faculty and staff are doing in and with the community."-Pamela Kirwin Heintz[/quote]This year's honor was achieved through such work as the community geographer in the Maxwell School of Citizenship and Public Affairs, who applies geographic information systems mapping and analysis to local initiatives while involving community members in the research. The initiatives, including community gardens, food access projects and cost-savings studies, are improving the quality of life, tackling consequences of urban decay and fostering revitalization and development in in Central New York.
Another effort is that of the Student Affairs Civic Engagement Initiative, a collaboration among the offices of Residence Life and First-Year and Transfer Programs, and the Shaw Center. A graduate assistant for civic engagement assists with development of co-curricular civic engagement initiatives, which have included Creating Art Together, a program that places students with youngsters to extend school district art programs, and a pre-orientation experience focused on hunger and homelessness in Syracuse.
The work and learning also express SU's vision of Scholarship in Action, a commitment to reciprocal, sustained engagement with local and global communities in addressing the most pressing issues.
"It's integrating expertise that's in the community together with the knowledge and expertise that we have," Heintz says. "For instance, through the Near West Side Initiative, there's been 2,000 hours of job training and support that's been facilitated by the initiative through multiple partnerships and grants."
Through the years, the University has had deep connections to the community through pre-professional practica, such as nursing, health and wellness, social work, marriage and family therapy, education and nutrition, and the work of Hendricks Chapel. Over the past 20 years, institutional support at all levels of the University has continued to increase, as has interest in all of higher education to encourage such programs.
"As we've had more support and engaged more campus and community partners, the impact has spread beyond the pre-professional to more diverse opportunities and projects across campus," Heintz says.