Arts & Culture
Stage Set for Promising Careers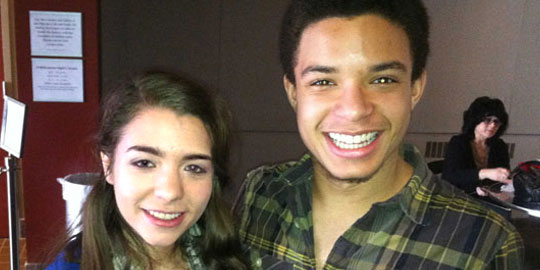 It's 20 minutes before show time, a time when one would expect nerves to be at their peak. Rachel Slotky '15 and Ethan Butler '16 deal with it like a couple of seasoned professionals. "Oh, there are butterflies," says Slotky. "I like them because it keeps me on my toes." It's all part of the learning experience for the pair at Syracuse Stage.
Slotky is an acting major in the College of Visual and Performing Arts and is playing the role of Hermia in the Shakespeare classic "A Midsummer Night's Dream." Butler, a musical theater major, is Lysander, the target of Hermia's affection. They are just two of the 15 SU students involved in the current Syracuse Stage production.
Syracuse University and Syracuse Stage have a long-running relationship that allows students to experience the gamut of a professional theater production, from what happens on stage to what happens behind the scenes. "It hasn't really sunk in yet that I get to go up on stage and work and perform with professional actors," Butler says. "It's thrilling."
It's also grueling for the students, who must balance schoolwork and stage work. The pair estimate that during rehearsals, they're at the theater more than 40 hours a week. "It's a challenge mentally," says Butler. "Yesterday, for instance, we got out of a matinee performance and then went straight to class, so it's being able to shift."
The production is physically demanding too. "It's a physical show," Slotky says. "I get home and I'm a little sore."
Both Slotky and Butler say their coursework has fully prepared them for the stage production. "This is my first Shakespeare production," says Butler, "but thankfully the school is great with the program and has given us classes for Shakespeare, specifically for students in 'Midsummer' in which we can analyze Shakespeare."
Interest in theater came at an early age for Slotky; she was cast in "The Little Mermaid" in grade school. "I was the french chef," she says. "I got pied in the face. I got a lot of laughs. I was hooked."
As for the latest show, Slotky and Butler were both picked after an audition in front of Syracuse Stage Producing Artistic Director Timothy Bond. Unlike the professionals, there is no pay involved, but performers do get something they say is just as good. A total of nine equity membership points each. Fifty points are needed to become a member of the Actors Equity Association, the union that represents actors and stage managers.
However, it's not only about the points. It's about the experience. Butler calls it "a fun little family."
"I'm surprised how much fun it is, every day coming up with new things and being able to use them," Butler says.
Slotky was surprised by how the show has evolved since opening night. "Stage blocking is the same, but people have changed," Slotky says. "They have a playful attitude to try new things during the performance. We understand the story more and understand characters more and the storytelling more and it gets a lot better."
"A Midsummer Night's Dream" runs through March 30.