Recent Can It! Initiative Proceeds Will Provide 7,656 Meals in Upstate New York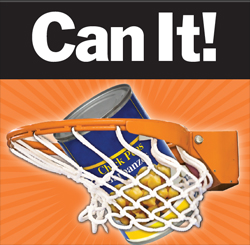 Syracuse Orange fans not only showed their team spirit at the Syracuse vs. Georgetown men's basketball game in the Carrier Dome on Feb. 23, they showed their generous spirit as well.
Fans at the game—and students in the days preceding—came together in a big way to support the Food Bank of Central New York through the Can It! University-wide interfaith initiative, part of Better Together: a student-led campaign for interfaith action, led by SU's Better Together Interfaith Alliance (IFA). With support from Syracuse University and Hendricks Chapel, IFA is participating in its second year of the President's Interfaith and Community Service Campus Challenge, put forward by President Barack Obama, inviting institutions of higher education to commit to a year of interfaith and community service programming on campus.
This year, $2,689.35 was collected at the Dome gates and backcourt on Feb. 23, and 1,226 pounds of food was collected at the Dome gates and in the Hildegarde and J. Myer Schine Student Center Feb. 19-21. This year's monetary total is approximately $1,100 more than what was collected last year during the game.
The food and money collected will provide 7,656 meals in the Food Bank's 11-county service area. The food was distributed to 268 emergency food program partners—food pantries, soup kitchens and emergency shelters.
"We are humbled by the outpouring of support by the fans and students in attendance at the game.  The event, put together by students and staff at SU, is a tremendous opportunity for the Food Bank of Central New York to raise food, funds and awareness of our work in Central and Northern New York," says Lynn Hy, director of philanthropy for the Food Bank of Central New York. "We thank everyone who donated and was involved in the planning process, especially the SU students."
"I am incredibly proud of the success of Can It! and that so many students from all different backgrounds could get involved in our efforts," says Leah Nussbaum, a sophomore majoring in policy studies and selected studies in education major, and co-president of the IFA. "We are Better Together!"