Veterans
Nicholas J. Armstrong Named IVMF Fellow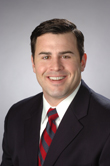 Further building on its commitment to leverage the resources of higher education in service to those who have served, the Institute for Veterans and Military Families at Syracuse University (IVMF) has appointed Nicholas J. Armstrong, a research fellow at the University's Institute for National Security and Counterterrorism (INSCT), as an IVMF Fellow. Armstrong specializes in public policy and administration, civil-military relations, defense and veterans' policy, security cooperation and assistance and contingency contracting.
As an IVMF Fellow, Armstrong will produce original research and develop research briefs to summarize his academic work on salient social, economic, public policy and wellness issues impacting veterans and military families. IVMF research briefs are disseminated throughout the institute's stakeholder network and maintained online as part of a searchable research library. He will also have the opportunity to present his research at various symposia that include representatives from business, industry, government, non-governmental agencies, higher education and other fields. In addition, he will serve as a contributor to the IVMF "Voices" blog and submit op-ed-style pieces on topics relevant to the veteran and military family communities. Blog postings are highlighted to senior community stakeholders in government and industry, and optimized for web-based searches on relevant subject matter.
"The IVMF research mission informs and shapes national dialogue on issues and challenges facing our nation's veterans and military families. As we develop strategic analysis of the issues, the addition of Nick's expertise and voice will further this mission and our work. I have collaborated with Nick on previous research endeavors, and I am thrilled that he is joining our esteemed cohort of IVMF Fellows," says Mike Haynie, IVMF executive director and founder.
Armstrong joined INSCT in 2008. He is also an associate of the Security Governance Group, a private research and consulting firm specializing in the security aspects of statebuilding and peace support operations. From 2010-12, he was selected as a non-resident fellow with the U.S. Army Peacekeeping and Stability Operations Institute (PKSOI) at the Army War College.
Armstrong previously served for seven years as an Army artillery officer, including nearly two and a half years deployed overseas to Iraq, Afghanistan and Bosnia. He is a graduate of the U.S. Military Academy at West Point (B.S.), SU's Maxwell School of Citizenship and Public Affairs (M.P.A.) and several military courses, including the Army Ranger School. Armstrong is a Ph.D. candidate in the Maxwell School's interdisciplinary social science doctoral program, with a thesis focusing on security force assistance partnerships in Afghanistan.
Outside of his research and doctoral studies, Armstrong is an active marathoner and volunteer director of veteran outreach for Team Red, White, and Blue-Upstate NY, a veteran support organization that assists in veteran transition and community reintegration through physical and social activities.