New Connective Corridor Bus Sign System Makes Navigating Free Bus Route Easier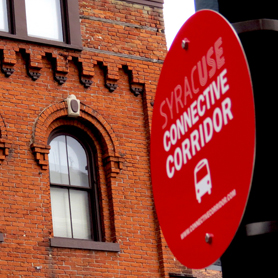 The Connective Corridor and Centro have collaborated on a new Connective Corridor bus sign system to help make navigating the free bus route even easier. The new system was designed by Syracuse University students across a number of disciplines.
New Connective Corridor bus signs are being installed by Centro at all Connective Corridor bus stops to better identify stops and to tie to overall Corridor branding. The new signs were co-designed by: School of Architecture graduate Stephen Klimek '12; Chris Guimarin, a communications design junior in the College of Visual and Performing Arts (VPA); and Quinton Fletchall, an industrial design senior in VPA.
The signs are also consistent with a new downtown wayfinding system in the Civic Strip that is being designed through the Connective Corridor by UPSTATE: A Center for Design, Research and Real Estate at the School of Architecture in partnership with the Syracuse Convention and Visitors Bureau, City of Syracuse and the Downtown Committee of Syracuse.
Klimek has also created a Corridor bus system poster for display and Corridor onboard bus maps that indicate routes, stops, venues and points of interest along the Corridor.
"I approached the new Corridor transportation signage and wayfinding maps from my design experience as a student in the School of Architecture," says Klimek. "Our challenge was to create a map that was user friendly for both visitors and everyday riders, including students and residents. We wanted to make the Corridor bus system easy to use while showing everything that the Near Westside, downtown and University Hill have to offer. The bus stop signs, maps and posters are bright and bold to catch your attention and have multiple layers of information so a user can simply find out where the bus runs or learn more about all the venues and destinations in downtown or along the civic strip."
"The new wayfinding system makes it easier for people who are unfamiliar with the city to navigate around, and perhaps even help city residents discover a new place," says Fletchall. "I feel very fortunate to be given the opportunity to work with such a talented group on the project. Personally, I have learned a lot from Stephen and Chris during the cross-discipline work we have been doing. I am excited to move forward with the project, and to apply the holistic design approach I have picked up in the industrial design program at Syracuse University."
The signs don't just benefit the community. Working on them gave students plenty of practical, hands-one experience.
"I was very excited to have worked on the Corridor bus signs," says Guimarin. "Collaborating with Stephen and Quinton allowed for us to optimize the typographic styles of the signs, resulting in clearer communications and more visual cohesiveness throughout the entire brand. I feel that it was very important for students to be engaged in this process because it allows for different disciplines to come together and do something important for the community. This is just one of many ways where SU students can work with the community to revitalize the environment we all work, live and play in. I am excited to be a part of future collaborations with the community and to see our efforts come to fruition."
"It takes a strong signage and wayfinding program to be a truly welcoming destination community," says David Holder, president of the Syracuse Convention and Visitors Bureau. "Thanks to the Connective Corridor, the Syracuse area will have an attractive, easy-to-use signage system that radically engages our visitors and residents alike."
The enhanced navigation will also enhance the Corridor as a sustainable transportation alternative offering system effectiveness and efficiency, as well as environmental benefits through reduced emissions from compressed natural gas and diesel-electric hybrid fuel Centro buses. "Syracuse University values the environment and promotes a green campus. The transit system at Syracuse University is a very complex one and we strive to make certain that we maintain the equipment and routes so that it remains sustainable," says Al Sauer, SU's director of Parking and Transit Services. "We use alternative fuel buses from Centro along the Connective Corridor, thus reducing the carbon footprint and supporting our green initiative."
Among the other new developments along the Connective Corridor route, helping users see public transit as a smart transportation choice and an effective alternative to car travel between University Hill and downtown Syracuse:
BusTime Web—Centro's new text and mobile app system, tracks the Connective Corridor route as well as other campus bus routes.  Learn more at:  67.216.0.103/bustime/home.jsp.
 Updated USE Mobile App—Version 1.2 connectivecorridor.syr.edu/2013/01/25/9222/ developed by iSchool graduate student Keisuke Inoue has been updated with student user feedback.  The app directly links to bus schedules, route maps and other real time information through on-board GPS tracking technology.  VPA assistant professor Jennifer Hamilton was part of the original app development team.
"USE is a mobile app for SU students and anyone who uses the Connective Corridor bus routes," says Keisuke.  "It uses the Clever Devices' platform, which has been deployed by transportation authorities in some major cities. The platform uses relocation data sent from on board the buses to keep track of the current location of the buses on the route, and estimates the arrival time at each bus stop based on that data. The buses that are displayed on the app are based on live feeds of this relocation data, so they are very accurate and reliable.  You can tell if the bus you are waiting for is around the corner, or delayed in traffic, just by launching the app."  This makes the app even more valuable in a snowy four-season climate, notes Keisuke, since "you don't have to wait for a bus outside in the cold weather without knowing when it will actually arrive."
The Connective Corridor Onboard Art—The Mobile Galleries 2013 season is now under way, with an exhibition featuring work by SU photographer Steve Sartori ("Corridor Noir") and downtown Syracuse and Near Westside photos taken by Klimek and Syracuse University students working with the Office of Community Engagement and Economic Development.  Connective Corridor photos are being sought for future exhibitions.  Photos may be sent to corridor@syr.edu or submitted to ccsyracuse.tumblr.com/ by April 1 to be considered for the next show, which will run for three months beginning in May.
The Connective Corridor bus is free for riders and can be picked up at any Centro bus stop along the Corridor route, as well as at specially marked stops.  More information, including routes, schedules and interactive Google maps can be found at:  connectivecorridor.syr.edu/bus/
The Connective Corridor is coordinated through the Syracuse University Office of Community Engagement and Economic Development.