Nationally Acclaimed Poet Next Guest in Raymond Carver Reading Series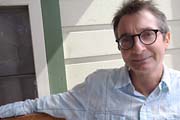 The Spring 2013 Raymond Carver Reading Series continues at 5:30 p.m., Wednesday, April 3, with critically acclaimed poet Dean Young, the William S. Livingston Chair of Poetry at the University of Texas.
The reading will take place in Gifford Auditorium and will be preceded by a question-and-answer session from 3:45-4:30 p.m. The event is free and open to the public. Parking is available in SU's paid lots.
Young is the creative writing program's 2013 Richard Elman Visiting writer. The Richard Elman Visiting Writer is supported by a gift from Leonard Elman in honor of his late brother Richard. In addition to the Raymond Carver event, Young will conduct a seminar for M.F.A. students and critique their work.
Recognized as one of the most energetic and influential contemporary poets, Young has published 14 books of poetry, the latest of which is "Bender: New and Selected Poems" (Copper Canyon Press, 2012). His collection "Elegy on Toy Piano" (University of Pittsburgh Press, 2005), was a Pulitzer Prize finalist; "Strike Anywhere" (University Press of Colorado, 1995) received the Colorado Prize for Poetry; "Skid" (University of Pittsburgh Press, 2002) was a finalist for the Lenore Marshall Poetry Prize; and "Primitive Mentor" (University of Pittsburgh Press, 2008) was shortlisted for the International Griffin Poetry Prize. His poems have been selected for Best American Poetry, and he received the 1997 Pushcart Prize.
According to Copper Canyon Press, "Bender gives readers opportunity to see the author's surreal word-play and witness Young, through the course of his career, become an iconoclastic force in American poetry." In a May 22, 2012, review of "Bender" for the Huffington Post, Seth Abramson writes: "Young has concocted such an endlessly satisfying brew of humor, self-effacement and sociocultural awareness that it holds together like the corpus of no other American poet …. Young's oeuvre may well be contemporary poetry's last best hope to reclaim cultural relevance while sacrificing not even an iota of its integrity."
Young received fellowships from the Guggenheim Foundation and the National Endowment for the Arts and an Academy Award in Literature from the American Academy of Arts and Letters. He was also awarded a Stegner Fellowship from Stanford University and a fellowship from the Fine Arts Work Center in Provincetown, Mass. He taught in the low-residency M.F.A. program at Warren Wilson College and was on the permanent faculty at the Iowa Writers' Workshop until becoming the William Livingston Chair of Poetry at the University of Texas at Austin in 2008.
Young holds an M.F.A. from Indiana University. He has produced audio recordings of his poetry for the Library of Congress and is a contributor of poetry to numerous periodicals and anthologies.
Named for the great short story writer and poet who taught at SU in the 1980s, the Raymond Carver Reading Series is a vital part of Syracuse's literary life. Presented by the Creative Writing Program in SU's College of Arts and Sciences, the series each year brings 12 to 14 prominent writers to campus to read their works and interact with students.
The series will conclude on April 24 with Diane Williams, award-winning short-story teller and author of seven works of fiction, including "Vicky Swanky is a Beauty" (McSweeney's, 2012). Further information is available by calling 315-443-2174.