Monday Memorial Service Planned to Celebrate Life of Maxwell Alumna Rachel Horlings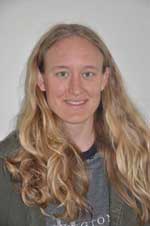 A memorial service celebrating the life of Rachel Horlings Ph.D '11 will be held on Monday, April 1, at 3 p.m. in Hendricks Chapel.
The University community is welcome to attend. Parking will be available in the Irving Garage. A reception will follow the service in the lobby of the Heroy Geology Building.
Horlings, a graduate of the doctoral program in anthropology in the Maxwell School of Citizenship and Public Affairs and former adjunct professor at University College, died March 16 while directing her field project in Ghana.
Horlings had developed a research program in the maritime archaeology of West Africa. Her primary research focused on the Atlantic maritime trade in coastal Ghana, including investigations of submerged cultural resources associated with the international coastal trade.
She also served as director for underwater archaeology for the Bunce Island Coalition, focused on research and restoration of the historic slave trading island of the same name in Sierra Leone.
Horlings conducted historical archaeological research in a number of areas around the globe, including the southeastern United States, Turkey, Ghana and Nigeria, and helped to teach historical archaeological field schools in the U.S., Turkey and Ghana.
She is survived by her husband, Alphonso Magri Ph.D '10, her parents and siblings.