Veterans
Michael Schoeneck Joins IVMF as Program Manager for Boots to Business and VetNet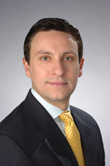 The Institute for Veterans and Military Families at Syracuse University (IVMF) has appointed Michael Schoeneck as the Boots to Business and VetNet program manager. In this role, he will be responsible for the management, coordination and administration of the IVMF's self-employment program Operation Boots to Business: From Service to Startup  (B2B) and VetNet Entrepreneur Track. B2B is a three-phase training program that introduces and trains transitioning service members to business ownership as part of the Armed Forces revamped TAP/TAMP programs. VetNet leverages Google technology to support veterans and military family members who want to start their own business through online, college-level business courses, ask-the-expert panels and office hours delivered via Google Hangout.
"We are so pleased for Mike to join the IVMF. His background in operations, budget and project management will have an immediate impact on the programs he will oversee. I am excited for him to also translate his personal passion for helping veterans (through his work with the Upstate New York chapter of the service organization Team Red, White and Blue) to further his work at the IVMF managing Boots to Business and VetNet—programs that are helping veterans and military families pursue entrepreneurship post-service, on a nationwide scale. We look forward to a great future with Mike on our team," says Tina Kapral, IVMF director of education programs.
Schoeneck is a 2006 alumnus of SU's Whitman School of Management. He holds a bachelor's degree in marketing and supply chain management. As an SU student, he was head manager of the Orange men's basketball team. In that role, Schoeneck was a member of the 2003 National Championship team, in addition to two Big East Championship teams in 2005 and 2006 respectively.
Prior to joining the institute, Schoeneck was employed at Pyramid Management Group, a commercial real estate development company headquartered in Syracuse, where he held positions in both finance and sales. His responsibilities included the development and implementation of large-scale real estate operating budgets and the management of national portfolio relationships.
He currently serves as chapter captain for Team Red, White and Blue (RWB) Upstate NY, which works to create veteran communities through physical and social activities. With Team RWB, he is developing chapter procedures and establishing and growing veteran networks in the Albany, Buffalo, Rochester, Southern Tier, Syracuse and Watertown areas.
Schoeneck also serves on the national board of directors for Phi Kappa Alpha fraternity and the SU Varsity Club.