Media, Law & Policy
Maxwell School Faculty Member Honored with Award Established in His Name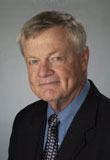 A longtime Maxwell School professor has been honored with a donation to establish, in his name, the Larry D. Schroeder Award for Excellence in Ph.D. Research. The annual prize will provide funding to a current Ph.D. student in public administration at Maxwell who, in the opinion of a faculty selection committee, has best demonstrated excellence in research.
In making the gift in her husband's name, Rosemary O'Leary, a former Maxwell professor, says that she is celebrating Schroeder's commitment to and love for the school to which he has dedicated the majority of his professional life.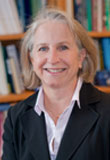 This dedication, according to O'Leary, explains the 80-hour work weeks, the kitchen table always covered with student papers and exams, and the thoughtful feedback that Schroeder provides to his students via copious notes in the margins. "Except for his family, there is nothing more important to Larry than the Maxwell School," she says.
For more than 30 years, Schroeder has served on the public administration, now public administration and international affairs (PAIA), and economics faculties of the Maxwell School. He is a leading scholar of public finance in the United States and developing countries and is widely published. Schroeder is also well known as an exemplary teacher and mentor and has won many major teaching awards, including the Birkhead-Burkhead Teaching Excellence Award, Maxwell Professor of Teaching Excellence and the Syracuse University Excellence in Graduate Education Faculty Recognition Award. During his time at Maxwell he has mentored countless doctoral students, many of whom have gone on to successful careers in the academy and in research institutions.
"It is increasingly the case that evidence of quality research, including publications, is becoming the norm in order for even newly minted Ph.D.s to be competitive for faculty openings at research institutions," says O'Leary. "It is my hope that this award will be a positive way to communicate that norm while honoring Larry's 30 years of service to the Maxwell School."
"We are extremely grateful to Rosemary and Larry for their many years of dedication to the Maxwell School, and now for this generous gift," says Associate Dean and PAIA Chair Ross Rubenstein. "This donation will allow us to recognize and support our doctoral students' efforts as they prepare for the next phase of their careers. Given Larry's commitment to mentoring the next generation of public administration scholars, I can't think of a better way to honor his legacy."