Veterans
March 9 Ceremony to Honor Local Navy Master Chief Peter J. Soler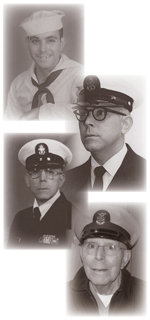 On Saturday, March 9, a ceremony will be held at Syracuse University's Hendricks Chapel to honor local U.S. Navy Master Chief Peter J. Soler, 87. A World War II and Korean War veteran, Soler resides in Cicero.
The event, an appreciation and unofficial retirement ceremony for the master chief (who never had a formal ceremony), will be held at 2 p.m. and is free and open to the public. Free parking is available in the Q1, Q2 and Q4 lots and University Avenue Garage. Patrons should alert the parking attendant that they are attending the event. Members of the SU campus and local community are invited to attend.
Event organizer Chief Petty Officer Jake VanMarter (Navy reserve) of Syracuse met Soler coming off active duty when he joined the Navy Reserve in 1991. The pair formed an immediate connection and Soler has been an important role model for VanMarter since their first introduction. VanMarter, who reveres the master chief as a mentor, friend and father figure, hopes to see current and former Navy and military personnel attend in recognition of Soler's service.
"The master chief is a wonderful man, very giving, very intelligent and very unselfish. He is an honorable man. I want to demonstrate to him the community's embrace and utmost appreciation for what he has done, what he continues to do and what he will be doing for many more years to come," VanMarter says.
VanMarter will serve as emcee for the ceremony, which includes a vocal performance of the national anthem by the Navy Sea Cadets, remarks by Chief of Staff, Navy Bureau of Medicine and Surgery, Rear Adm. Rebecca McCormick-Boyle (headquarters of Navy and Marine Corps medicine, Pentagon), participation from local Navy veterans and reservists and remarks from the master chief himself.
Soler was born in New York City on July 17, 1925. He enlisted in the Navy on Sept. 14, 1943, and received basic training at Sampson Naval Base. During WW II, he was stationed aboard the USS Lansdale in the Mediterranean, the U.S.S. Robert H. Smith in the Pacific (Iwo Jima, Okinawa, Guam) and the USS Mervine in Nagasaki. He received eight battle stars for his efforts in the war: two for his assignment on the Lansdale and six for the Robert H. Smith.
In 1995, he wrote "The History of the USS Lansdale," a book on the April 1944 sinking of the Navy destroyer by a German aerial torpedo while escorting a convoy from Gibraltar to Bizerte, Tunisia. When the ship sank, 234 of the 282 member crew survived and 49 were lost (42 of whom are listed as missing in action). Soler, who was a fireman first class with a battle station in the destroyer's magazine, said  they had no idea what was transpiring when someone opened the hatch and told them to abandon ship. He relates that all escaped from the magazine. The book is now at the Library of Congress.
Soler began his Naval reserve career in 1947 and was recalled to active duty in 1950 in support of the Korean War. During that time, he served aboard the U.S.S. Nicholas in Korea and was awarded a Battle Star. He married his wife, Alice, in 1953. (She passed away in April 2000.)
He continued his service as part of the Naval Reserve from 1964 on. He was selected as chief petty officer in 1964, promoted to senior chief in 1975 and finally to master chief in 1978. Soler retired from the Navy on his 60th birthday, July 17, 1985. He became Naval Sea Cadet Committee Chairman in 1985 and is still serving in that capacity and sits on the Navy League National Board of Directors. In 2007, he began participating in Chief Petty Officer Selectee Transition/Induction and inspired the Rochester and Syracuse Chief Petty Officers to combine that same year.
Soler, who is currently recovering from a fall in Washington, D.C., while attending a Navy League conference, has had a partial hip replacement and resides alone. He continues to volunteer his time with the Naval Sea Cadet program and with sailors, chiefs and the Navy League. He has a brother and sister who live on the West Coast and a nephew, a former Marine, who resides in North Carolina. Soler's other brother recently passed away.
The ceremony is being supported by a number of SU entities, including the Institute for Veterans and Military Families, University College, Hendricks Chapel and the Newhouse School.
For more information, contact VanMarter at 315-530-3943 or jcubvm@gmail.com.