March 22 'American Meat' Screening to Include Discussion with Director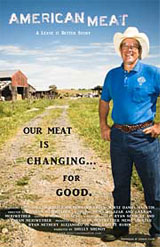 Can sustainable farming feed America? Find out at the free screening of the documentary "American Meat," a pro-farmer look at cattle, hog and chicken production in the United States. The film will be shown on Friday, March 22, at 7 p.m. in Grant Auditorium. The doors open at 6:30 p.m. with complimentary snacks and refreshments. After the screening, a panel discussion including the film's director, Graham Meriwether, will explore sustainable farming issues and our nation's food system. Admission is free and open to the public.
This documentary is not an exposé aimed at shocking you, although it doesn't hide the feedlots and confinement houses used for mass-produced meat. Instead, the producers of "American Meat" bill the film as "a solutions-oriented documentary chronicling the current state of the U.S. meat industry." It features farmers in Virginia, Iowa and New York who are part of a farming revolution opting to use alternative agriculture methods such as rotational grazing and local distribution. In turn, a supportive and growing local food movement is taking root.
Meriwether is a documentary journalist and director at Leave It Better, a film production company that tells solutions-oriented environmental stories. In 2010, he founded the nonprofit Leave It Better Foundation, which seeks to empower youth to heal our environment.
Along with Meriwether the post-film discussion panel will include Matthew Volz, owner of Greyrock Farm CSA in Cazenovia, N.Y.; Paul Esposito, SUNY-ESF graduate student studying communication of food system sustainability; and a representative from the Falk College of Sport and Human Dynamics.
Attendees are encouraged to bring their own reusable mugs, cups, plates and silverware in order to minimize the amount of trash generated during this zero-waste gathering. Free parking will be available in the Irving Garage, offering convenient access to the auditorium via the garage's fifth-floor bridge.
This event is sponsored by Syracuse University's Sustainability Division. For more information, contact Melissa Cadwell, macadwel@syr.edu.