Lutheran Campus Ministry presents 'Laugh in Peace Comedy Tour' April 19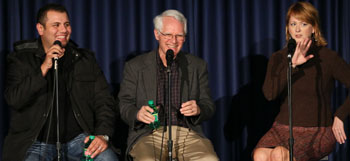 The Lutheran Campus Ministry at Syracuse University's Hendricks Chapel will present a Stand-Up Comedy Night as part of the nationally acclaimed "Laugh in Peace Comedy Tour" on Friday, April 19. It will be the signature event of the 100th anniversary celebration of Lutheran Campus Ministry at SU and the SUNY College of Environmental Science and Forestry.
The tour features three comedians—the Rev. Susan Sparks, Mo Amer and Rabbi Bob Alper—of three different faiths—Christian, Muslim and Jewish—who aim to make people laugh, and to think. In the words of comedian Rabbi Alper, "When you laugh together you can't hate each other. You learn to love each other."
The performance will begin at 8 p.m. at the Palace Theater, 2384 James St., in Syracuse's Eastwood neighborhood. Ticket prices are $30 before April 1, $35 after April 1 and $40 at the door the night of the event. Tickets include the show and a dessert reception that will include Kosher and Halal options. Parking is available in the adjacent POMCO lot.
For event and ticket information, visit lcmsyracuse.org or call 315-443-2439.
A trial lawyer turned Baptist minister and stand-up comedian, Sparks is the senior pastor of the historic Madison Avenue Baptist Church in New York City.
Dubbed the "Arab-American Bill Cosby," Mohammed "Mo" Amer is a stand-up comedian from Houston. He has performed in more than two dozen countries on five continents, as well as with the "Allah Made Me Funny: Official Muslim Comedy Tour."
Alper, an ordained rabbi, is the author of three books, "Life Doesn't Get Any Better Than This," "A Rabbi Confesses" and the newly released "Thanks, I Needed That."
Their show has been featured on CNN, ABC and Good Morning America. More information on the Laugh in Peace Comedy Tour can be found on Facebook at www.facebook.com/pages/The-Laugh-in-Peace-Comedy-Tour/197523456990459.
The Lutheran Campus Ministry at Syracuse University is a dynamic community that nurtures growth and inspires service in the name of Christ. Students are involved in worship, service learning and engagement in the community and with the environment.