Campus & Community
'Learning and the Massive Open Online Course' to Be Presented April 3 and 4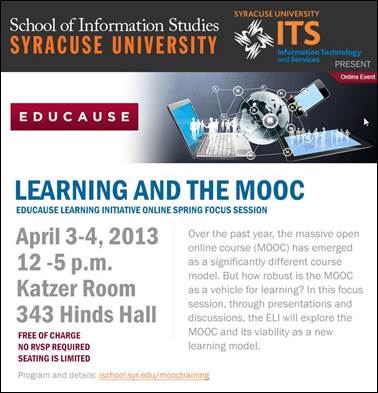 Over the past year, the massive open online course (MOOC) has emerged as a significantly different course model. But how robust is the MOOC as a vehicle for learning? Join us April 3 and 4 for the EDUCAUSE Learning Initiative (ELI) Online Spring Focus Session 2013, "Learning and the Massive Open Online Course," where we will engage the teaching and learning community in exploring this new online course model. Tour institutional examples of MOOCs, various instructional designs and delivery models, processes, methodologies for setting up and evaluating the model, and implications for teaching and learning. Topics will include:
the MOOC instructional/learning model and how to support faculty teaching in it;
quality assurance mechanisms, accreditation and analytics;
instructional design challenges and opportunities;
student evaluation, assessment, and academic integrity; and
the future of higher education and the MOOC.
The iSchool and Information Technology and Services (ITS) invite you to a free, live presentation of this online forum in 347 Hinds Hall (the Katzer Collaboratory). Registration is not required, but seating is limited, so arrive early.
Hosted inside an Adobe Connect learning environment, this virtual event will be much more than your usual online seminar. You'll exchange ideas and collaborate interactively with the ELI community. You'll also receive all the resources and guided activities you need to help frame discussions and organize team events locally in your department, college, or institution.
Is This Event for You?
This online session will bring together a variety of teaching and learning professionals to begin to address challenges and opportunities related to working with emerging technologies and innovations around open educational content. The session will be valuable for:
Information technology professionals
Learning technologists and designers
Faculty members and instructors
Administrators
Librarians
Others functioning in related roles
Information and agenda are at:
www.educause.edu/eli/events/eli-online-spring-focus-session
Sampling of speakers:
Phil Hill and Michael Feldstein (Mindware and e-literate blog): Everything You Think You Know About MOOCs Could Be Wrong
Cathy Sandeen, vice president, American Council on Education: MOOCs for Credit: Current State-of-the-Art
Ellen Junn, provost, San Jose State University: MOOC Environments at San Jose State University
Phil Long, University of Queensland: MOOCs and Campus Practice
Ang Nguyen, Stacey Clawson, Gates Foundation: Digging into MOOC Mania: One Investor's Key Research Questions and Approach
MOOC provider panel with Coursera, edX, Academic Partnerships, Instructure