Veterans
Law School's March 23 'Valor Day' Provides Free Resources for Local Veterans and Service Members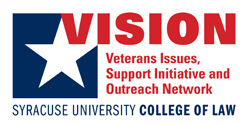 As a way of giving back to those who have served, Syracuse law students, alumni and local volunteers will partner to provide free legal and advocacy services through a new Valor Day initiative. Valor Day brings together local attorneys, counselors, financial professionals and area veterans organizations providing support and advocacy for area veterans, service members and their families. Services include legal advice, readjustment and vocational counseling, tax return preparations, resume reviews and credit counseling services. The event will be held on Saturday, March 23, from 10 a.m. to 3 p.m. at the College of Law in the White Hall Rotunda. Parking is available in the Irving Garage.
The event grew out of the newly formed Veterans' Issues, Support Initiative and Outreach Network (VISION) network at the College of Law as a way for students to advocate for service people and their families.
"With the growing numbers of veterans and service members on our campus and in our community, we have a great opportunity to show our support and utilize our legal skills," says Josh Keefe, VISION co-founder and second-year law student. "We're excited to bring together attorneys, financial experts and other volunteers to help veterans in any way we can."
Valor Day will also include a veterans' information fair. Representatives from more than a dozen local organizations will be on site to discuss their services and provide information.
"We could not be more pleased with the support we have received from the University administration and our local professionals," says VISION Director and Co-founder Tom Caruso, who is also a second-year law student. "There is a real need for pro bono legal services for our warriors and their families and VALOR Day will be a great step toward meeting this demand."
All veterans, service members and their immediate family are encouraged to attend. Appointments are encouraged for legal and counseling services.
For more information please contact VISION@law.syr.edu or call 315-464-0715 for appointments or follow us on Facebook at www.facebook.com/IHAVEVISION or Twitter #SUValorDay.