Campus & Community
In Support of United Way and CNY Community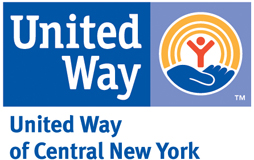 Neighbors came out to support neighbors—and it's making an impact. More than 700 Syracuse University employees contributed a total of more than $212,000 for SU's 2012 United Way Campaign.
The amount raised placed SU's campaign seventh out of the top organizations in total giving to the United Way of Central New York. The results were published in the 2012 campaign brochure.
Through participation in the annual campaign, the University is able to contribute to the efforts that benefit 95 local programs and services through 35 agencies in Onondaga County. One in four members of the local community is reached by the programs supported by the United Way.
"The United Way is committed to uplifting and caring for all members of our community," says Dean of Libraries and University Librarian Suzanne Thorin, who chaired the University's United Way committee. "As a strong presence in Central New York, Syracuse University is proud to play a role in helping accomplish that mission. Credit goes to staff from across the University who are willing to spend their time and resources in support of this important cause."
The campaign included individual donations and fund-raising events held across campus last fall, which raised more than $11,000.
The campaign co-coordinators, Kate Hammer, community relations associate in the Office of Government and Community Relations, and Peg Northrup, assistant director in the Office of Special Events, worked together with a team of volunteers from across campus to advance the campaign—keeping community agencies solvent to meet the ongoing needs of neighbors across the county.