Huffington Post Exclusive Features Cold Case Justice Initiative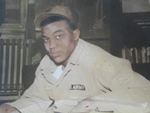 The death of a U.S. military policeman trying to make it home to see his pregnant wife is gaining newfound attention 50 years after his death. Cpl. Roman Ducksworth was shot to death by police officer William Kelly after Ducksworth was pulled from a bus in Taylorsville, Miss. This happened back in 1962. Despite witnesses' claims that an unarmed Ducksworth did nothing to provoke the shooting, the officer was never put on trial. The Cold Case Justice Initiative was given credit in today's Huffington Post for helping to bring this story back into the spotlight.
Ducksworth family members claim the Department of Justice overlooked evidence in the case. Especially revealing, according to the two SU College of Law professors who co-founded the CCJI, were unearthed documents that showed prior to the shooting, some of Ducksworth's relatives were being closely watched and were identified by the Mississippi State Sovereignty Commission as so-called 'agitators' and 'NAACP activists.' Janis McDonald and Paula Johnson co-founded the CCJI and are also working on behalf of the Ducksworth family, including his son Cordero, who was 5 years old at the time of his father's death.
Cordero Ducksworth recently visited the College of Law on the SU Campus, and his case is being highlighted as part of a commemoration of the 50th anniversary of Civil Rights Era milestones.