Help SU Beat UConn, Save Lives in Annual Blood Drive Battle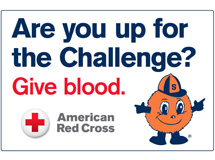 Students, faculty and staff at Syracuse University and the University of Connecticut will compete in the annual "Are you up for the challenge?: Give Blood" competition during the month of April, which is also blood drive month for the American Red Cross.
For the fourth year, the competition determines which school donates the most pints of blood. UConn won in 2010; SU won in 2011; and UConn won again in 2012; however, the real winners are the people whose lives are saved, as each pint donated saves three lives. The winner of the blood drive challenge is determined by the ratio of enrollment to participation. This year is our year, 'Cuse!
The SU vs. UConn challenge, sponsored by the American Red Cross and the Division of Student Affairs, consists of 14 total drives. The competition kicks off on Monday, April 1, in the Schine Student Center from  noon-5 p.m. All drives are open to the campus community and all presenting donors will receive a T-shirt. To schedule an appointment to donate blood, call 1-800-REDCROSS or visit www.redcrossblood.org. More information can also be found on Facebook at Syracuse University Blood Drives or on Twitter at @SUBloodDrives.
Blood drives on campus:
April 1: Schine 304 ABC noon-5 p.m.
April 5: DellPlain Hall noon-5 p.m.
April 5: Watson Hall 11 a.m.-4 p.m.
April 8: College of Law 10 a.m.-3 p.m.
April 9: Goldstein Student Center 3-8 p.m.
April 10: Newhouse 11 a.m.-4 p.m.
April 11: Schine 304 ABC noon-5 p.m.
April 11: Day Hall 11:30 a.m.-5:30 p.m.
April 12: Goldstein Student Center 3-8 p.m.
April 17: Schine Underground 11 a.m.-4 p.m.
April 23: Watson Hall 10 a.m.-4 p.m.
April 23: SUNY ESF Marshall Hall 10:30 a.m.-3:30 p.m.
April 26: Flint Hall noon-5 p.m.
April 29: Schine Underground 10 a.m.-3 p.m.
Syracuse University values blood donation as a means to support and save lives, though we urge the FDA to end the blood ban on men who have sex with men, known as the MSM blood ban. To learn more about the ban, visit www.fda.gov/biologicsbloodvaccines/bloodbloodproducts/questionsaboutblood/ucm108186.htm. To learn more about current policy news and reports, visit www.gmhc.org/advocate/msm-blood-ban.
The SU vs. UConn Blood Battle was initiated by the Connecticut and New York-Penn American Red Cross offices in 2009-10 in an effort to increase blood donations at college campuses. Blood donations from SU students, faculty and staff—as well as the number of donation drives on campus—have increased over the past six years. In all, SU blood drives have helped to save more than 100,000 lives since the SU-Red Cross partnership began more than 40 years ago.
In 2009-10, 1,447 pints of blood were collected at 42 drives on the SU campus. In 2010-11, 2,111 pints were collected at 51 drives, resulting in 6,333 lives saved in the past year.
For more information about the SU vs. UConn Blood Battle and campus blood drives, contact Julia Collier, Syracuse account manager for the American Red Cross, at 315-233-6046.
Not everyone is eligible to donate blood, and blood donation is not the only way to support this event. If you are interested in volunteering, in lieu of donating blood, please call 315-233-6046 for volunteer opportunities.