Fashion and Beauty Communications Milestone Fashion Show to Be Held April 5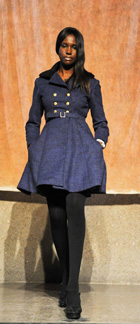 Students from the S.I. Newhouse School of Public Communications and College of Visual and Performing Arts (VPA) will present the fashion show "9 to 5: Work, Fashion & Communications" on Friday, April 5, at 7 p.m. in the Newhouse 1 lobby. The fashion show is free and open to the public. Refreshments will be served in the Miron Room in Newhouse 1. Free parking is available in the Waverly lot, with overflow in the Harrison and Lehman lots.
Follow the show on Twitter at #NHFashion2013.
The annual event is sponsored by the Fashion and Beauty Communications Milestone, a collaboration of the Newhouse School and VPA's fashion design program. Each year the show explores a critical issue being discussed in the mass media. This year's show takes on the serious issue of unemployment and the continued need for job creation.
"I expect the show to have a wonderful turnout," says Mohammad Diallo, fashion design senior and fashion director for the show. "My team and I will deliver an exciting fashion show with the best scenes and the very best looks." Sections of the show include:
"Brother Can You Spare a Dime?" (6 looks): A tribute to the working men of Syracuse's mighty factory age.
"Diversity and Professional Dress" (15 looks): A section sponsored by Fashion's Conscience, an SU organization dedicated to increasing diversity on campus and providing support to students pursuing degrees in fashion design.
"Putting Your Best Foot Forward at Work for Less than 40 Bucks" (15 looks): Models in this section will be styled in clothing generously donated from the local Thrifty Shopper.
"Working Parents" (8 looks): Newhouse staff members who are also mothers will model in this section with their children. While wearing accessories designed by students of Professor Jean Henry, they will show off how they balance their daily professional obligations with raising a family.
"From Work to Play" (20 looks):  The SU women's field hockey team will showcase athletic looks in this section.
"From College to Workplace" (25+ looks): Original fashion design from VPA students.
The Fashion and Beauty Communications Milestone is an academic concentration that explores the communications surrounding fashion and beauty as communication. Coursework, which is drawn from both Newhouse and VPA, covers such topics as the history of fashion; contemporary fashion in popular culture; visual communications; fashion advertising and promotion; fashion photography and beauty and fashion journalism. The milestone program is open to students in Newhouse or in VPA's fashion design program. Follow on Twitter at @FASCOMSU.
For more information, contact Carla Lloyd at 315-443-2305 or cvlloyd@syr.edu.
This story was written by Alexandria Yazwinsky, a junior in the Newhouse School and the Martin J. Whitman School of Management.