Events Scheduled for SU's Annual Asian Pacific Heritage Month
In honor of Asian Pacific American Heritage Month, Syracuse University's Office of Multicultural Affairs, within the Division of Student Affairs, is hosting a series of events in April in collaboration with campus departments and student organizations. The month-long celebration officially begins on Monday, April 1, in the Schine Student Center atrium with a table display of student organizations and an Asian-inspired lunch. A highlight of this year's program is the commemorative speaker Professor Kenji Yoshino, the current Chief Justice Earl Warren Professor of Constitutional Law at the New York University School of Law. Yoshino's lecture will occur on Wednesday, April 10, at 7 p.m. in the Hergenhan Auditorium. The lecture is free and open to the public.
Celebrated nationally in May, APA Heritage Month honors Asian Americans and Pacific Islanders who have enriched America's history and are instrumental in its future success. Guided by the University's vision of Scholarship in Action, APA Heritage Month consists of programs and signature events that educate all members of the Syracuse University community about the histories, cultural diversity, contributions and often underreported challenges of Asian Pacific Americans.
The planning committee chose "Exploring Identities" to be this year's theme to remind society of the complex and rich identities of Asian Pacific Americans, even though society might try to box Asian Pacific Americans into one category. "We want to encourage the campus community to explore and learn about the identities and many expressions of what it means to be Asian Pacific American today, especially in light of the stereotypes of being perpetual foreigners and the 'model minority,'" says Huey Hsiao, associate director for the Office of Multicultural Affairs.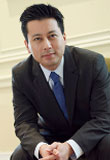 Programming for the heritage month includes a film that highlights a part of the Asian Pacific American history and culture, two musical performers, a spoken word poet, an exhibition and a keynote lecture by Professor Yoshino. Yoshino will discuss his momentous book, "Covering: The Hidden Assault on Our Civil Rights," in which he fuses legal manifesto with autobiography. It marks a move from more traditional pleas for civil equality to a case for individual autonomy in identity politics. In it, he argues that each of us "covers" our differences, bending to societal pressure and toning down aspects of our personality to gain acceptance from the mainstream.  A "common read" on many campuses, "Covering: The Hidden Assault on Our Civil Rights" was hailed by Publishers Weekly for its "tremendous potential as a touchstone in the struggle for universal human dignity."
Another highlight of the month includes Syracuse University alumnus Amnat Chittaphong '99, G'02. Chittaphong is returning to campus to share his professional and personal experiences on Thursday, April 25, at 5:30 p.m. in the Miron Room 303, Newhouse 1. Chittaphong is the dean of students at Holyoke Community College. He is a seasoned diversity/leadership trainer/educator, social justice consultant and community activist, with more than 15 years of experience in the field. Chittaphong earned a B.A. in political science and an M.S. in higher education administration from Syracuse University. The event is co-sponsored by Alumni Relations, Career Services, Higher Education Department, Kappa Phi Lambda and the Newhouse Diversity Committee.
A full events calendar for APA Heritage Month is available on OMA's website at multicultural.syr.edu, and available for pick up in Schine, Suite 105. For more information on APA month events, contact Huey Hsiao, associate director in the Office of Multicultural Affairs, at huhsiao@syr.edu.