ESPN Coordinating Director of Music to Speak April 2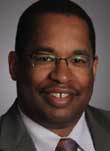 Claude A. Mitchell Jr. '88, the coordinating director of music at ESPN, will present a lecture on Tuesday, April 2, at 6:30 p.m. in the Lender Auditorium, located on the concourse level of the Martin J. Whitman School of Management. The lecture is part of the Bandier Program's Soyars Leadership Lecture Series in the College of Visual and Performing Arts' (VPA) Rose, Jules R. and Stanford S. Setnor School of Music. It is open to the University community.
With a career spanning more than 20 years and credits that include the FIFA World Cup, Winter and Summer X Games, Sports Center and seasonal sports packages for the NBA, English Premier League Soccer and NFL Monday Night Football, Mitchell has set himself apart as a leader in the innovative use of music in sports production. He and his team are key players in defining the sound of ESPN. They manage the creation of original music, oversee and negotiate licensing deals with artists, coordinate placements for artists in content and events across all of ESPN's media platforms, and oversee in-house sound design and audio mixing of pre-edited features.
Mitchell has contributed to many Emmy Award-winning productions, including the 2010 FIFA World Cup U2 and Soweto Gospel Choir campaign, winner of the 2011 Emmy Award for Outstanding Music Composition/Direction/Lyrics. He is a graduate of SU's College of Arts and Sciences.
For more information about the lecture, contact David Rezak, director of the Bandier Program, at 315-443-3280 or dmrezak@syr.edu.