DPS Takes Community Service to a New Level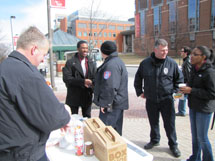 Members of the Syracuse University Department of Public Safety are giving new meaning to the phrase "to protect and serve." Typically, DPS officers are seen on campus patrolling buildings, walkways and streets, along with responding to calls about crime.
Wednesday, those same officers were in front of Sims Hall serving in a different way: handing out cups of hot chocolate along with donuts.
"We're trying to get back to the community, and bring a human aspect," says DPS Officer Jon Lebaron, who also serves as the DPS union president. "We want people to know we're here to serve."
Officer Lebaron says a recent survey conducted by DPS indicated 85-percent of the campus community was satisfied with DPS and the service they provide. "We're trying to make that 100 percent," Lebaron says. "This is just something a few officers put our heads together and said this would be good. We want to let the public know that we're human too, just because we have a badge doesn't mean you have to be intimidated and not approach us."
Lebaron says this is just the beginning. Officers are planning a volleyball event during Wellness Week 2013. Their next chance to serve comes up April 2 at the Schine Student Center. They're calling it "Wrapping with DPS," in which officers will be handing out sandwich wraps to students and staff. All DPS asks in return is for people to let officers know how they're doing, as they try to reach 100-percent satisfaction.