Disability-Themed Comic Symposium to be Held at SU April 11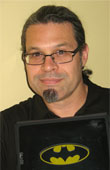 On April 11, Syracuse University will host a one-day symposium that will be the first of its kind. "Fantastic! Heroic! Disabled? 'Cripping' the Comic Con" will feature undergraduate and graduate students' work, as well as contributions from seasoned and emerging scholars and artists from all over North America. Topics will include representations of disability in various genres, including science fiction, horror and humor, as they appear in television, film, newspapers, webcomics, comic books and graphic novels. The symposium will be consistent with values that underscore the disability rights movement. It is free and open to the public, and will take place from 8 a.m. to 5:45 p.m. in 201ABC of the Goldstein Student Center on Syracuse University's South Campus.
One of the event's major goals is to raise awareness of disability as part of human diversity, and to create strong and meaningful connections, both on and off-campus. Artists and vendors from throughout upstate New York will be participating.
"Although popular culture studies and comics studies, in particular, address issues of disability, disability themes do not receive sustained attention in these spaces, typically," says Diane Wiener, director of the Disability Cultural Center and research associate professor in the School of Education.
In reference to the symposium name, using the terms 'crip' and 'cripping' is one way of 'taking back' language and power from the people and institutions that use it to harm and demean people with disabilities, including at times 'crippling' physical disabilities, such as cerebral palsy, muscular dystrophy and multiple sclerosis. Language, control and social power are thus asserted by people with disabilities and their allies, who have the right to speak for themselves and act on their own behalf. (For more information, visit: http://crippingthecon.com/more-on-what-cripping-means/.)
One of the many highlights of the event will be the featured keynote presentation on "Death, Disability and the Superhero: The Silver Age and Beyond" by José Alaniz, associate professor in the Department of Slavic Languages and Literatures and the Department of Comparative Literature at the University of Washington–Seattle.
Additionally, Jill Stromberg '12, accomplished graphic artist and designer, has created a specialized design portfolio for "Cripping the Con," including a team of superheroes with disabilities, "The Access Avengers."  During her tenure as a student at SU, Stromberg was the art director of the OutCrowd, the independent LGBTQA student magazine, and the graphic designer and student staff assistant at the LGBT Resource Center.
A reception will follow the event from 6-7 p.m. and a special post-conference session "Disability Activism & Fandom: A roundtable strategizing on fandom as a target of/resource for activism" will be held from 7-9:30 p.m. The evening events will be held at the Skybarn.
Wiener is coordinating the annual event with Rachael Zubal-Ruggieri, information coordinator for the Center on Human Policy, who is an undergraduate student at SU.
"Disability studies as an interdisciplinary field has not, until relatively recently, paid much attention to comics and graphic novels. It has been Rachael's and my dream to bring a disability-themed comics symposium to SU, and now that dream has come to fruition," says Wiener.
Information and content produced as a result of this symposium will be published via Beneath the SUrface (BtS), an open source digital repository on disability and popular culture to be launched at the conclusion of the symposium. BtS will then become available to the academic community as well as to the general public, and will include an array of resources regarding disability and popular culture.
Sponsors of this symposium include the SU Disability Cultural Center, the Center on Human Policy, the Slutzker Center for International Services, the Disability Student Union, the Beyond Compliance Coordinating Committee and Disability Studies at Syracuse University.
For more information or to register, visit: http://crippingthecon.com, http://www.facebook.com/CrippingTheCon, and follow the event on Twitter @cripcon.
Questions can be sent to cripcon@gmail.com.