Comcast Head Brian L. Roberts Will Visit Newhouse School March 26
Student Farron Stark will interview him in a public Q&A at the school
Brian L. Roberts, chairman and CEO of Comcast Corp. and chair of the board of directors of NBCUniversal, will visit the S.I. Newhouse School of Public Communications on Tuesday, March 26. Newhouse student Farron Stark, a graduate student in broadcast and digital journalism, will conduct a public Q&A with Roberts starting at 2 p.m. in the Joyce Hergenhan Auditorium in Newhouse 3. Follow on Twitter at #ComcastTalk.

Under Roberts' leadership, Comcast has grown into a Fortune 50 company and is the nation's largest video, high-speed Internet and phone provider to residential customers under the XFINITY brand, and also provides these services to businesses. The company is the majority owner and manager of NBCUniversal, which operates 30 news and entertainment cable networks, the NBC and Telemundo broadcast networks, television production operations, television station groups, Universal Pictures and Universal Parks and Resorts. Additionally, Comcast has a majority ownership in Comcast-Spectator, whose major holdings include the Philadelphia Flyers NHL hockey team and the Wells Fargo Center, a large multipurpose arena in Philadelphia.
Roberts is a member of the board of directors of the National Cable & Telecommunications Association (NCTA), where he served as chair for two consecutive terms—from 2005 to 2007 and from 1995 to 1996, when the landmark deregulatory 1996 Telecommunications Act became law. He is director emeritus of CableLabs, the research and development consortium for the cable industry, where he served three terms as chair. He is a member of the Business Roundtable, a CEO-only organization based in Washington, D.C., and served on the President's Council on Jobs and Competitiveness.
Roberts has won numerous business and industry honors for his leadership. In 2011, he received the Ambassador for Humanity Award from the USC Shoah Foundation for his visionary leadership and philanthropic work in education and technology. He also received the Newhouse School's Fred Dressler Achievement Award at the 2011 Mirror Awards ceremony. Also in 2011, he and his father, Ralph J. Roberts, were inducted into Babson College's Academy of Distinguished Entrepreneurs Hall of Fame. In 2009, Institutional Investor magazine named him as one of America's top CEOs for the sixth year in a row, and named Comcast one of America's most shareholder-friendly companies for the fourth year in a row. In 2008, he was recognized by Big Brothers Big Sisters for his outstanding leadership in the community and for serving as a role model to youth. In May 2007, he was presented with the cable industry's highest honor, the Vanguard Award for Distinguished Leadership, from the NCTA. In October of 2006, he was inducted into the Cable Television Hall of Fame. In 2005, he was honored by the National Association for Multi-Ethnicity in Communications for his commitment to diversity in the cable industry, and by the Partnership for a Drug-Free America (PDFA) for Comcast's unprecedented commitment of resources to champion the PDFA's drug-free message. He also was the recipient of the 2004 Humanitarian Award from the Simon Wiesenthal Center. In 2003, he received the Steven J. Ross Humanitarian Award from the UJA Federation of New York. In 2002, he was honored by the Police Athletic League of Philadelphia for his commitment to youth programs and community partnerships.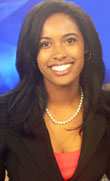 Stark, a graduate student in Newhouse's broadcast and digital journalism program, is a native of Fort Worth, Texas. She earned a bachelor's degree from Abilene Christian University, where she studied broadcast journalism and political science. During that time, she spent a semester at the Washington Journalism Center in Washington, D.C., where she also interned for The Daily Caller, a political news website.
In Abilene, Stark worked as an award-winning announcer for KACU-FM, and as a reporter and anchor for student media newscasts. Before coming to Syracuse, she worked as a producer and nightside and weekend reporter at KTXS-TV. She aspires to become a political reporter in Washington, D.C., or focus on local news as an anchor and reporter in her native Texas.
The talk is free and open to the public. For more information, contact Jean Brooks at 315-443-5711 or jabroo01@syr.edu.