Civil Rights Advocate and Ivy League Educator Keynotes APA Month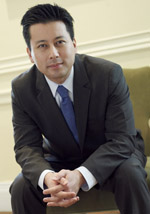 The Office of Multicultural Affairs, within the Division of Student Affairs, has announced Kenji Yoshino as this year's commemorative speaker for Asian Pacific Heritage Month (APA). Noted as the face and voice of the new civil rights, Yoshino will speak on Wednesday, April 10, in Hergenhan Auditorium in Newhouse 3 at 7 p.m. The event is free and open to the public.
Yoshino is an established author and the current Chief Justice Earl Warren Professor of Constitutional Law at the NYU School of Law. He will be discussing his momentous book "Covering: The Hidden Assault on American Civil Rights" (Random House, 2007), where he fuses legal manifesto with autobiography. It marks a move from more traditional pleas for civil equality to a case for individual autonomy in identity politics. In it, he argues that each of us "covers" our differences, bending to societal pressure and toning down aspects of our personality to gain acceptance from the mainstream. A "common read" on many campuses, "Covering" was hailed by Publishers Weekly for its "tremendous potential as a touchstone in the struggle for universal human dignity."
"As a campus community that values diversity and inclusion, the APA Heritage Month planning committee was excited to extend the invitation to Professor Yoshino as this year's commemorative speaker," says James K. Duah-Agyeman, director of the Office of Multicultural Affairs. "He not only speaks about his own personal experiences as a gay Asian American, but also speaks for the fair treatment of all people that are disenfranchised in our society."
Prior to his appointment at NYU, Yoshini served from 1998-2008 as the inaugural Guido Calabresi Professor of Law and deputy dean of intellectual life at Yale Law School. He received his undergraduate degree from Harvard College, studied as a Rhodes Scholar at Oxford University and earned his law degree from Yale Law School.
Yoshino's work involves constitutional law, anti-discrimination law, civil and human rights, as well as law and literature, and Japanese law and society. He has written for major academic journals, such as the Harvard Law Review, Stanford Law Review and Yale Law Journal. He also writes broadly in more popular forums, such as the New York Times, the L.A. Times, the Washington Post and Slate, as well as appearing regularly on Charlie Rose and NPR. In 2011, Yoshino was elected as an overseer of Harvard University. His newest project, called "Civil Right, Inc.,"' is an in-depth look at the leadership role corporations are taking in the advancement of civil rights.
Celebrated nationally in May, APA Heritage Month honors Asian Americans and Pacific Islanders who have enriched America's history and are instrumental in its future success. Guided by the University's vision of Scholarship in Action, APA Heritage Month consists of programs and signature events that educate the community about the histories, cultural diversity, contributions and the often-underreported challenges of Asian-Pacific Americans.
The lecture is co-sponsored by the Asian American Studies Program, Disability Cultural Center, Intergroup Dialogue Program, LGBT Resource Center, S.I. Newhouse School of Public Communications and College of Law.
For more information on the commemorative lecture or upcoming APA month events, contact Huey Hsiao, associate director in the Office of Multicultural Affairs, at huhsiao@syr.edu.