CFAC Presents Women in Music Concert on March 14 in Honor of Women's History Month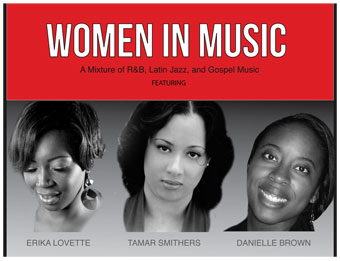 Community Folk Art Center (CFAC) will close out its "A Journey Through Music of the African Diaspora" Series (JMAD) by hosting a Women in Music concert featuring Erika Lovette, Tamar Smithers and Danielle Brown on March 14 at 7 p.m. In honor of Women's History Month, the Women in Music concert will celebrate female empowerment through a mixture of Rhythm and Blues, Latin Jazz and Gospel.
Now in its second year, "A Journey Through Music of the African Diaspora" explores and celebrates the rich creativity, depth and legacy of African diasporan musical traditions played by local, regional and nationally recognized musicians. With an opportunity to hear music from Latin to Gospel, JMAD creates a space for people to come together around a central idea, music, and listen to signature pieces by talented musicians whose individual diversity is as varied as the genres of music.
This event is free and open to the public. Donations are welcome to support CFAC's 40th anniversary year programming. "A Journey through Music of the African Diaspora" is co-sponsored by University College at Syracuse University, The Gifford Foundation, SU Arts Engage and The Third Thursday (TH3).
R&B singer and songwriter Erika Lovette has found success performing in and around the Syracuse area. This SAMMY Award-winning artist has performed at various community events, family events and weddings, and has opened for major artists such as Tank, Red Man, John Henton and George Wallace. Lovette is also a member of Syracuse-based music production group, C-Jack Run. Her debut album, "Love, Life and Everything in Between," was released in February 2010.
A 2007 graduate of Syracuse University's Department of Drama, Tamar Smithers is a seasoned singer, actress and performer. She has performed in the Syracuse area with the Media Unit, Paul Roberson Performing Arts Company and Rarely Done Productions' "Bare the Musical" playing the role of Sister Chantel. Her most notable performances include her role as the Lady in Blue in "For Colored Girls," Hyppolita in "A Midsummer Nights Dream" and Sister Hubert in "Nunsense the Musical." Smithers has also been a vocalist for the R&B band, Electric Relaxation, and a performer with the C-Jack Run Revue. Smithers is currently program coordinator for the Creative Arts Academy (CAA) at CFAC.
Musician Danielle Brown is a talented singer, pianist, cuatrista, composer and researcher. Once a member of the Latin band, Salsaficación, Brown has performed in a variety of Latin genres including salsa, plena, cumbia and merengue. A graduate of NYU's Ph.D program in ethnomusicology and a recipient of the prestigious Thomas J. Watson fellowship, Brown has dedicated much of her academic and professional career to jazz piano and music concentrations. She has since performed throughout Trinidad and the U.S., including at the famed Nuyorican Poets Café.
Founded in 1972, CFAC is a proud unit of the African American Studies Department at Syracuse University and a beacon of artistry, creativity and cultural expression engaging the Syracuse community, the region and the world. For more information, visit CommunityFolkArtCenter.org, follow on Twitter @cfac, or call (315) 442-2230.