Celebrate Orange Spirit through National Orange Day Activities
Traditions Commission will hand out cake in Schine Atrium Thursday at 11 a.m.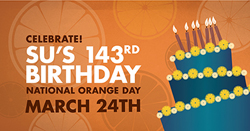 Syracuse University and SU alumni clubs around the nation will be celebrating Orange spirit on Sunday, March 24—National Orange Day. This year is the 143rd anniversary of SU's founding on March 24, 1870.
"National Orange Day is a wonderful tradition that brings the SU community and alumni clubs across the nation together to celebrate the history of SU, and to engage in projects that support our respective local communities," says Cristina Swift, assistant director of alumni relations. "There is no better way to celebrate SU's founding than to display our Orange spirit and pride through celebration and community outreach."
And what better way to celebrate than with cake. The Traditions Commission will hand out celebratory cupcakes in the atrium of the Hildegarde and J. Myer Schine Student Center on Thursday, March 21, beginning at 11 a.m. Otto will be there, and a caricaturist and a photo booth will also be available in the atrium to contribute to the celebration of Orange spirit.
Also on Thursday, wear Orange and save 25 percent on SU sweatshirts at the Syracuse University Bookstore. This offer cannot be combined with any other promotional discount.
And members of the SU community can also support the campus-wide sponsorship of the Vera House White Ribbon Campaign. Wrist bands and ribbons will be sold in the Schine Atrium on Thursday.
The National Grid Building in downtown Syracuse and the Carrier Dome will be lit in orange on March 24, and the Tennity Ice Skating Pavilion on South Campus will offer free admission and half-price skate rentals on Sunday.
More information on National Orange Day can be found at syr.edu/alumni/events/National-Orange-Day.html.
The Traditions Commission also invites all Syracuse students, alumni and fans to a virtual dance party video to celebrate SU's birthday. Those interested in being part of the video should record themselves dancing for 20-30 seconds. No complicated choreography is needed; just show your best moves, whether it is doing the worm, the Macarena, a waltz, or just jumping and shaking.  All you need to do is dance around to celebrate the University's birthday (preferably wearing your favorite Syracuse gear). Send your video to sutraditions@gmail.com by Thursday, March 21, to be considered for inclusion in the video.
Among the service projects taking place around the country, sponsored by local SU Alumni Clubs:
The Arizona club will collect items for the local Ronald McDonald House.
The Army ROTC club will make donations to the SU First Book Program, SU Literacy Corps, USO-sponsored United through Reading program and Braille Books for Blind Children.
Atlanta alumni will volunteer with Hands on Atlanta on March 23 as they tutor and lead activities with students at ACTODAY. Volunteers will help lead activities and provide help with reading and math for students in kindergarten through fifth grade.
The Baltimore club will volunteer at the Baltimore Animal Rescue and Care Shelter on March 23, visiting the animals and helping with a clean-up at the shelter.
Big Apple Orange (New York City) is hosting a virtual food drive throughout the month of March to support New Yorkers in need. Visit the Big Apple Orange Food Drive page at help.foodbanknyc.org/site/TR?px=1320964&fr_id=1370&pg=personal to make your donation.
Boston alumni will volunteer with the Emerald Necklace Conservancy on April 20 to help with their annual Muddy River cleanup. Volunteers will help clean trash and debris from the banks of the Muddy River and the Back Bay Fens.
Due to the devastation along the Jersey Shore from Hurricane Sandy, the Central New Jersey club will be volunteering with the Clean Ocean Action on April 27 to help with beach clean-up.
The Maxwell D.C. Alumni Club will volunteer at the Capital Area Food Bank on March 30.
The Northeast Ohio Club will volunteer at the Warrensville Heights YMCA on April 5. Volunteers will run various contests, spend time with the young adults in the arcade, pool and teen center areas, and distribute bags of donated food and drink items.
Northern New Jersey alumni volunteered at Deidre's House, a child advocacy center in Morristown on March 16. They did a spring clean-up and restocked the kitchen with healthy snacks and drinks.
The Philadelphia club will volunteer at Philabundance, the food bank of Greater Philadelphia, to sort and pack food for local organizations that serve people in need.
Rochester alumni volunteered on March 9 to help prepare for the 13th Annual Finger Lakes International Wine Competition and Auction, a fundraiser benefiting Camp Good Days and Special Times, a nonprofit organization that provides for children and families who are touched by cancer, AIDS and other life struggles.
Seattle club members will be volunteering at TriFreaks Indoor Triatholon at Greenlake in Seattle.
The Stumptown Orange (Portland, Ore.) club will volunteer with the Forest Park Nature Conservancy on April 27 doing restoration work.
The Suncoast (Florida) club will participate in the 18th Annual Giving Hunger the Blues event in Sarasota on March 24. The fundraiser benefits the All Faith Food Bank, a volunteer-based organization.
Washington D.C. alumni will collect new stuffed toys leading up to National Orange Day to give to the children at the National Institutes of Health. Their wish list can be found on Amazon under SU in DC Toys, www.amazon.com/gp/registry/wishlist/2W1Z8FQ4RS9F7.