Campus Looks Forward to Opening of New Fitness Center in 2014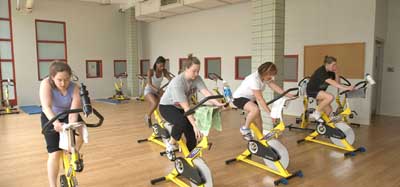 For years, Joseph Lore has been listening to students complain about the fitness center in Archbold Gym. It's grubby, some equipment is old and much of it squeezed together, and the wait is too long for cardio machines at peak times. The place is nothing like the sleek, cutting-edge facilities at many other major universities—including those that compete with SU for students.
That's why Lore, director of recreation services, and others can't wait until 2014, when the University plans to open a new, state-of-the-art fitness center, along with the relocated SU bookstore, in a redeveloped University Avenue Garage.
In recent years, SU leadership has increased the number and quality of fitness centers on and near campus, including those opened in Marshall Square Mall (2007) and Ernie Davis Hall (2010), both of which see heavy use from students, as well as from faculty and staff who are welcome to use any of the fitness centers. There are smaller centers at Goldstein Student Center and Marion and Brockway halls.
Still, increasing demand for workout space and equipment outstrips what is available. "We've got a campus culture now where a lot more people are taking health and fitness more seriously," Lore says. "This generation of students is very health conscious. So are more faculty and staff. The bottom line is we've got a lot more people working out. We need to meet and exceed the needs of the campus community."
Meanwhile, some are frustrated because they can't get court time at one of the nation's top basketball schools. When the weights, mats and machines moved into Archbold in 2001, the fitness center took over two of three basketball courts in the gym. With the three in the newer Flanagan building monopolized by intramural leagues, students not on a team compete to play on the one court in Archbold.
The new fitness facility in the redeveloped University Avenue garage will have three floors, twice as many machines, better air circulation, lighting and design, and additional spaces for group classes. It will not have a pool or racquetball courts—these will remain open in Archbold—but it will have air conditioning in summer, which Archbold does not have. It will be accessible to people with disabilities, which the Archbold center is not.
Floors in the new facility will be designed to bear the weight of free weights and exercise machines, unlike the basketball courts in Archbold. Once the new center opens, the University can move the heavy weights, machines and TVs out of Archbold, fix the hardwood floors damaged by more than a decade of pounding, and restore the two basketball courts that have been unavailable for years.
Some faculty and staff have said they do not want to lose the Archbold workout facility, because of its central location on campus. University officials say they understand the concern, and are exploring ways to meet the health and fitness needs of the entire University community. This includes looking at spaces in and around Archbold that could provide workout space.
There are still moving pieces in this puzzle, including the need for the city, the developer and University leadership to agree on exactly when and how the University Avenue Garage project will proceed. Current plans call for the facility to open sometime during summer 2014. For now, University officials say, the Archbold fitness center will not shut down, at least not until the new one opens.