Bandier Program to Present Talk by Live Nation Network Venue Sales President Maureen Ford March 19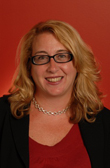 Maureen Ford, president of venue sales for Live Nation Network, will present a lecture on Tuesday, March 19, at 6:30 p.m. in Lender Auditorium, located on the concourse level of the Martin J. Whitman School of Management. The lecture is part of the Bandier Program's Soyars Leadership Lecture Series in the College of Visual and Performing Arts' (VPA) Rose, Jules R. and Stanford S. Setnor School of Music. It is open to the University community.
Ford leads a team of more than 100 staffers who sell advertising and sponsorship programs built around Live Nation's amphitheaters, clubs, theaters and outdoor music festivals. Live Nation Entertainment is the world's leading live entertainment and e-commerce company, comprised of four market leaders: Ticketmaster.com, Live Nation Concerts, Artist Nation and Live Nation Network.
Ford is responsible for a budget of $50 million in annual revenue, and oversees key projects such as development of new venue programs and sponsored party decks at more than 30 amphitheaters. Ford and her team recently created new platforms for Skype to interact with consumers both at the Global Lady Gaga Tour and Live Nation Venues. Digital media, branded promotions and music festivals are key elements of many programs that Ford and her team create. Music festival revenues, including Sasquatch Music Festival in Seattle and Music Midtown in Atlanta, are up by approximately 150 percent over the past year. That growth will continue as more than 10 new festivals are added this year.
For more information about the lecture, contact David Rezak, director of the Bandier Program, at 315-443-3280 or dmrezak@syr.edu.