Award-Winning Playwright David Henry Hwang Discusses Identity in Next University Lecture April 4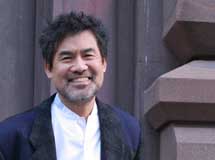 Over his long and illustrious career, Tony Award-winning playwright David Henry Hwang has masterfully brought complicated characters, relationships and issues to life on stage—from Rene Gallimard and Song Liling in "M. Butterfly," to an early 20th century Chinese family facing westernization in "Golden Child," to the issue of race in the semi-autobiographical, biting satire "Yellow Face."
Hwang will share his journey in creating those works during his University Lectures presentation on "The Fluidity of Identity: Theatre and the Search for Self" on Thursday, April 4, at 7:30 p.m. in Syracuse University's Hendricks Chapel.
This lecture, sponsored in cooperation with the Pulse performing arts series, the LGBT Resource Center, the College of Visual and Performing Arts and the Humanities Center, is free and open to the public. Communication Access Real-Time (CART) and American Sign Language (ASL) interpretation will be available. Reduced-rate parking will be available in the Irving Garage.
Throughout his career, Hwang has explored the complexities of forging Eastern and Western cultures in a contemporary America. He is best known as the author of "M. Butterfly," which ran for two years on Broadway; won the 1988 Tony, Drama Desk, John Gassner and Outer Critics Circle Awards; and was also a finalist for the 1989 Pulitzer Prize.
He is also author of the award-winning plays "Golden Child" and "Yellow Face" and several books for award-winning musicals. According to Opera News, Hwang is America's most-produced living opera librettist.
His newest play, "Chinglish," is a comedy about an American businessman in China. He is also executive producer of the feature film "White Frog."
Hwang has been awarded numerous grants, including fellowships from the National Endowment for the Arts, the Guggenheim and Rockefeller Foundations, the New York Foundation for the Arts and the PEW Charitable Trust. From 1994-2001, Hwang served by appointment of President Clinton on the President's Committee on the Arts and the Humanities. He has also been honored with the 2012 William Inge Distinguished Achievement in the American Theatre Award. Hwang also received a USA Fellowship from United States Artists in 2012.
The Office of University Lectures welcomes suggestions for future speakers. To recommend a speaker, or to obtain additional information about the University Lectures series, contact Esther Gray in the Office of Academic Affairs at 315-443-2941 or eegray@syr.edu.
The last University Lectures presentation this semester will be a screening of environmental photographer James Balog's award-winning documentary "Chasing Ice" on Tuesday, April 16, at 7:30 p.m. in Hendricks Chapel.