Atlantic Records Group General Manager Speaking March 26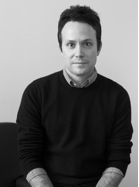 David Saslow '91, general manager of Atlantic Records Group, will present a lecture on Tuesday, March 26, at 6:30 p.m. in the Lender Auditorium, located on the concourse level of the Martin J. Whitman School of Management. The lecture is part of the Bandier Program's Soyars Leadership Lecture Series in the College of Visual and Performing Arts' (VPA) Rose, Jules R. and Stanford S. Setnor School of Music. It is open to the University community.
Saslow started his career with the Atlantic Records Group in 2007 as senior vice president of video content, production and promotion. Saslow was promoted this year to the position of general manager of the Atlantic Records Group. He has overseen creative campaigns for such acts as Bruno Mars, Fun, Death Cab for Cutie, T.I., Skrillex, Santigold and Flo Rida. Prior to his career with the Atlantic Records Group, he was the leader of video at Interscope, where he began in 1995. Saslow made his start in the music business in 1992 at Elektra Entertainment in the video department.
Saslow graduated from SU's S.I. Newhouse School of Public Communications with a degree in advertising.
For more information about the lecture, contact David Rezak, director of the Bandier Program, at 315-443-3280 or dmrezak@syr.edu.