Annual Reel Queer Film Festival to Be Held March 28-29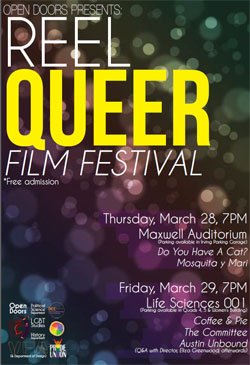 Syracuse University's 2013 Reel Queer Film Festival, sponsored by Open Doors, takes place on March 28 and 29. The festival features a mix of both short and feature documentaries and fictional narratives, focused on the intersections of multiple identities and traditional LGBTQ audiences, including racial conflicts, gender roles, historical precedents, disabled and differently abled, and more.
The two-day festival includes film screenings on Thursday, March 28, at 7 p.m. in the Maxwell Auditorium, and on Friday, March 29, at 7 p.m. in 001 Life Sciences. Friday's screening features a Q&A session with director Eliza Greenwood of "Austin Unbound" and Logan Kriete of "The Committee." The festival is open to the public. Admission is free. Parking is available in the Irving Parking Garage on Thursday, and in Quad lots 4 and 5, and the Women's Building lot on Friday.
"It's a very diverse festival and we are trying to cater to not only the LGBT community but also many others," says Kriete, a graduate student in Newhouse, a member of the festival committee and director of "The Committee." "Attendees will love it if they want to learn more about these issues and watch some entertaining movies at the same time."
Film screenings on Thursday, March 28 at 7 p.m.
"Do you have a cat?" (Comedy, 11 minutes)
A narrative short; it's hard searching for love in the modern world, especially when you're a bisexual woman with a severe cat allergy.
"Mosquita y Mari" (Drama, 85 minutes)
A coming-of-age film featuring two Hispanic girls who find themselves attracted to each other and the intersection of their gender, racial and sexual identities.
Film screenings on Friday, March 29 at 7 p.m
"Coffee & Pie" (Comedy, 15 minutes)
In this self-proclaimed anti-romantic comedy and off-beat love story, couple June and October are breaking up. Manipulative June feels her moral superiority justifies the breakup. A confused October learns from seasoned waitress Billy-Jean that revenge is a dish best served with pie.
"The Committee" (Documentary, 27 minutes)
Florida's little-known investigative committee of the State Legislature from 1956-1964 aimed to root out homosexual teachers and students from state universities. It was successful in either firing or expelling more than 200 suspected gays and lesbians. The film features two victims and one interrogator who have never spoken publicly about their experiences. It culminates in a 50-year reunion between victim and interrogator.
"Austin Unbound" (Documentary, 44 minutes)
Austin is deaf and transgender, and identifies as a straight man. He yearns to remove his breasts so he may stop binding and breathe freely. His journey is an inspiration to many. His self-awareness, humor and personality are recognized and honored in his community.
The film festival is co-sponsored by the Department of Design in the College of Visual and Performing Arts; departments of Political Science and History in the Maxwell School; Women and Gender Studies, and LGBT studies in the College of Arts and Sciences; the LGBT Resource Center; the Disability Cultural Center and Pride Union.
If special accommodations are needed, contact Al Forbes at arforbes@syr.edu.
For more information on the festival, contact Kriete at logankriete@gmail.com.