Activist John Prendergast to Continue Conversation on Human Rights in Africa April 8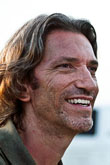 In September 2012, five people from the Congo—survivors and refugees from the Congolese civil war—captivated audiences at Syracuse Stage with their searing portrayals of their struggles to leave the past behind and form a new, peaceful community in Central New York.
The world premiere of "Cry for Peace: Voices from the Congo," a work commissioned by SU's Arts Engage and written by pre-eminent playwrights Ping Chong (the fall 2012 Jeannette K. Watson Distinguished Collaborator in the SU Humanities Center) and Kyle Bass, with Sara Zatz, began conversations and built hope and empathy across national boundaries and borders.
The conversation will continue with a presentation by human rights activist and best-selling author John Prendergast, co-founder of the Enough Project, on Monday, April 8, at 7:30 p.m. in Hendricks Chapel. He will speak on "Cry for Peace: What Individuals Can Do to Save Lives in the Congo."
The event, sponsored by SU Arts Engage, is free and open to the public. Communication Access Real Time (CART) and American Sign Language (ASL) interpretation will be available. Reduced-rate parking will be available in Irving Garage. For more information, contact SU Arts Engage at 315-443-0296.
"'Cry for Peace' ignited a desire for change in many of our students, and Prendergast's work will continue this ongoing dialogue about creating peace and reconciliation in the Congo and Sudan," says University Arts Presenter Carole Brzozowski. "We hope students will walk away from his lecture reinvigorated with the knowledge that individuals can truly impact the larger conflicts in our world in positive ways."
SU Arts Engage continues to endorse projects that help raise awareness, including the One Million Bones Project hosted by the Community Folk Art Center in fall 2012.
Prendergast has worked for peace in Africa for more than 25 years. He co-founded the Enough Project, an initiative to end genocide and crimes against humanity affiliated with the Center for American Progress in early 2007. According to the organization's website, the Enough Project "fights to end genocide and crimes against humanity, focused on areas where some of the world's worst atrocities occur. We get the facts on the ground, use rigorous analysis to determine the most sustainable solutions, influence political leaders to adopt our proposals and mobilize the American public to demand change."
Under the Enough Project umbrella, Prendergast has helped create a number of initiatives and campaigns. With actor George Clooney, he helped launch the Satellite Sentinel Project, which aims to prevent conflict and human rights abuses through satellite imagery.  With Tracy McGrady and other NBA stars, he co-founded the Darfur Dream Team Sister Schools Program to fund schools in Darfurian refugee camps and create partnerships with schools in the United States. He helped launch two campaigns under Enough: the Raise Hope for Congo Campaign, highlighting the issue of conflict minerals that fuel the war there, and Sudan Now, focused on bringing peace to that embattled country.
Prendergast has worked for the White House during the administration of President Bill Clinton, the State Department, two members of Congress, the National Intelligence Council, UNICEF, Human Rights Watch, the International Crisis Group and the U.S. Institute of Peace.  He has been a Big Brother for more than 25 years, as well as a youth counselor and a basketball coach.
He is the author or co-author of 10 books.  His newest book, "Unlikely Brothers" (Crown, 2012) is a dual memoir co-authored with his first little brother in the Big Brother program. His previous two books were co-authored with actor and human rights activist Don Cheadle: "Not On Our Watch" (Hyperion, 2007), a New York Times bestseller and NAACP non-fiction book of the year, and "The Enough Moment: Fighting to End Africa's Worst Human Rights Crimes" (Crown, 2010).
Prendergast has appeared on "60 Minutes" and helped create African characters and stories for two episodes of "Law and Order: Special Victims Unit," one focusing on the recruitment of child soldiers and the other on rape as a war strategy. He has also traveled to Africa with NBC's "Dateline," ABC's "Nightline," PBS "NewsHour," CNN's "Inside Africa," Newsweek/The Daily Beast, and The New York Times Magazine. He has appeared in several documentaries and been profiled in numerous prominent publications.
Prendergast has been a visiting professor at Albright College, Yale Law School, Temple University, Stanford University, Columbia University, the University of San Diego, the University of Pittsburgh, St. Mary's College and University of Massachusetts-Lowell. He has been awarded six honorary doctorates, and is a board member and strategic advisor to Not On Our Watch, the human rights organization founded by Don Cheadle, George Clooney, Matt Damon, Brad Pitt, David Pressman and Jerry Weintraub.