Work of Latina Artist Favianna Rodriguez Will Open at La Casita Cultural Center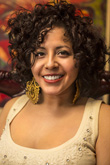 Last fall, celebrated printmaker and social activist Favianna Rodriguez joined forces with other California-based artists to create posters urging passage of Proposition 37, which would have required labeling of all food made from genetically engineered plants and animals. The proposition failed, but not the resolve of Rodriguez, who has dedicated her career to creating art that reflects national and international grassroots struggles and social justice movements.
An exhibition of her work, "Messages of Sisterhood," will open at La Casita Cultural Center Gallery, 109 Otisco St., Syracuse, on March 1. A panel discussion, "Women, Art, Literature and Social Justice Movements," will begin at 4 p.m. followed by an opening reception at 6 p.m. Both events are free and open to the public. The exhibition is co-sponsored by the Partnership for a Better Education at Syracuse University, and will run through April 21.
Participating in the panel discussion will be Rodriguez; Chandra Talpade Mohanty and Jackie Cuevas of the Department of Women's and Gender Studies in SU's College of Arts and Sciences; and Maria Revelles, organizer for Service Employees International and a resident of Syracuse's Near Westside community.
A native of Oakland, Calif., Rodriguez is renowned for her vibrant posters dealing with issues such as war, immigration, globalization, workers' rights, racism, homophobia, sexism and other contemporary issues. Whether her subjects are immigrant day laborers, mothers of disappeared women in Juárez, Mexico, or her own abstract self portraits, Rodriguez brings new audiences into the art world by refocusing the cultural lens.
"I was schooled in East Oakland by Chicano political poster artists at a very young age," Rodriguez says in her artist's statement. "The free neighborhood art classes of the '80s were a great opportunity that allowed me to learn alongside established Third-World artists. It is through this training that I became a community poster artist."
Rodriguez is president and co-founder of TUMIS, Oakland's only bilingual design studio dedicated to global human rights; director of Visual Element, a graffiti arts program that trains young artists in the traditions of muralism and graffiti for social change; and co-founder of EastSide Arts Alliance, an organization of artists, cultural workers and community organizers of color who live and/or work in the San Antonio district of Oakland. Rodriguez is also a member of Justseeds Artists' Cooperative, a network of 24 artists committed to making print and design works that reflect a radical social, environmental and political stance.
Rodriguez has lectured widely on the use of art in civic engagement and on the work of artists who are bridging the community and museum, the local and international. She has worked closely with artists in Mexico, Europe and Japan, and her works appear in collections at Bellas Artes (Mexico City), The Glasgow Print Studio (Glasgow, Scotland) and Los Angeles County Museum of Art and has been exhibited nationally and internationally, including England, Belgium, Tokyo and Mexico.
Rodriguez writes that she is "part of a long tradition of political artists … that have inspired and informed my work and set the stage for political graphics in the 20th century."