VPA's Genet Gallery to Present Retrospective of Designer Robert Blaich '52, H'90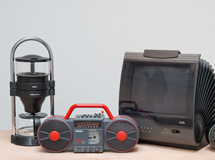 The Sue & Leon Genet Gallery in the College of Visual and Performing Arts (VPA) will present "The Design Impact of Robert Blaich," an exhibition showcasing the distinguished career of Syracuse University alumnus Robert Blaich '52, H'90 and the importance and impact of his 60 years in the design field.
"The Design Impact of Robert Blaich" will be on view Feb. 8-28 in the Genet Gallery, which is located on the first floor of The Warehouse, 350 W. Fayette St., Syracuse. Regular gallery hours are Monday-Friday, 1-5 p.m. or by appointment.
On Wednesday, Feb. 27, Blaich will give a lecture on his career from 12:45-2 p.m. in The Warehouse Auditorium as part of the Design Symposium in VPA's Department of Design. A closing reception for the exhibition will be held later that day from 5-7 p.m. The exhibition, reception and lecture are free and open to the public.
After earning a bachelor of fine arts degree in design from VPA, Blaich worked for Herman Miller Inc., where he eventually became vice president of corporate design and communications. He went on to become senior managing director of design at Royal Philips Electronics in the Netherlands and established himself as an innovator in the industrial design field. In 1991, he founded his own company, Blaich Associates. He is a past member and chair of the board at Teague and a fellow of the Industrial Designers Society of America.
An active and supportive SU alumnus, Blaich is a member of the VPA Advisory Council and has served as a visiting professor for the Department of Design's industrial and interaction design program. He received an honorary doctor of fine arts degree from SU in 1990. SU Library's Special Collections Research Center recently received a donation of documents that span Blaich's career, and he has donated many books to the Department of Design's library.
"The Design Impact of Robert Blaich" is curated, designed and installed by first-year graduate museum studies students in VPA. For more information, contact Bradley Hudson, exhibition facilitator, at bjhudson@syr.edu.