Arts & Culture
Syracuse Stage Blue Star Theatres Program Offers Discount and Complimentary Tickets to Active U.S. Military, Families, Veterans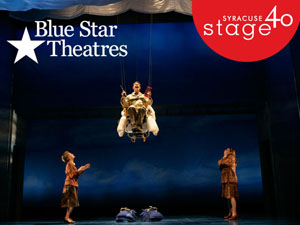 Syracuse Stage is offering discount and complimentary tickets to U.S. military personnel, U.S. military veterans and their immediate family members to select performances for remaining shows in the current season. This effort is supported by a grant from the Central New York Community Foundation.
Complimentary tickets are available to military families for the matinee performance of "A Midsummer Night's Dream" on Saturday, March 9. There will be a complimentary pre-show reception at 1:30 p.m. in the Sutton Pavilion with treats from Provisions Bakery. A discussion with the actors will immediately follow at 2 p.m., and the performance will begin at 3 p.m. in the Archbold Theatre.
For details and to reserve complimentary tickets, complete the ticket reservation form on the Blue Star page under the "Visitor Info" tab at SyracuseStage.org. There is a limit of seven tickets per order for complimentary tickets, and tickets must be reserved by Sunday, March 3. Groups of 10 or more are welcome to attend and should call 315-443-8603 or email bluestar@syracusestage.org to make a reservation.
In addition to complimentary tickets for select performances, as a part of the Blue Star Theatres program U.S. military personnel, U.S. military veterans and their immediate families are eligible for discounted tickets to all Syracuse Stage performances. Syracuse Stage's Blue Star discount includes adult tickets for $30 during the first week of performances, $12 youth tickets for all performances and $5 off regular adult tickets to shows after the first week of performances.
Discounted tickets for shows in the 40th Anniversary Season can be purchased through the Syracuse Stage Box Office, 820 E. Genesee St., 315-443-3275. Discounted tickets are based upon availability and cannot be combined with any other offer. For more information, visit SyracuseStage.org.
The Blue Star Theatres program is a national initiative sponsored by MetLife, Blue Star Families and Theatre Communications Group. It is derived from the Blue Star Museums program, where museums offer free or discounted admission to military personnel. The program launched on Sept. 28, 2012, with more than two dozen theaters participating. Syracuse Stage is one of seven participating theaters in the state of New York.