Campus & Community
SU's Morton Schiff Jazz Ensemble to Present Free Concert Feb. 21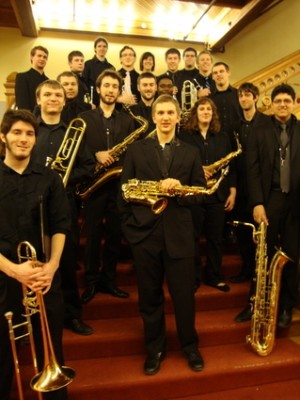 The Morton Schiff Jazz Ensemble will present a concert on Thursday, Feb. 21, at 8 p.m. in the Setnor Auditorium, Crouse College. The concert is free and open to the public.
Free and accessible parking is available in the Q1 lot. Additional parking is available in the Irving Garage. Campus parking availability is subject to change; call 315-443-2191 for current information.
The Jazz Ensemble will perform under the direction of Joseph Riposo, instructor of music in the College of Visual and Performing Arts' Rose, Jules R. and Stanford S. Setnor School of Music.
The ensemble will include Cruisin' for a Bluesin by Maynard Ferguson, NutVille by Horace Silver, Bird Count by Maria Schneider, Committed To You by Joe Riposo, The Queen Bee by Sammy Nestico, Cookin' by Torrie Zito and Nomads by Jerry Coker.
For more information or Setnor concert status updates, contact 315-443-2191