SUPA representatives meet with Vietnam ambassador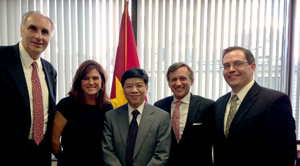 On Feb. 6, representatives of Syracuse University Project Advance (SUPA) and International School Ho Chi Minh City (ISHCMC) met with Ambassador Nguyen Quoc Cuong, Vietnamese ambassador to the United States. Ambassador Cuong hosted the group at the embassy of the Socialist Republic of Vietnam in Washington, D.C.
Discussion centered around the ambassador's desire to increase the number of Vietnamese students in colleges and universities in the U.S., and how the relationship between SUPA and ISHCMC helps achieve that goal. Ambassador Cuong was enthusiastic about the partnership and looks forward to continued cooperation between Vietnamese educators and SU.
Pictured in the photo, from left to right, are Bill Newell, associate director of SUPA; Valerie Twomey, marketing manager for Cognita Schools;  Ambassador Nguyen Quoc Cuong; Jeff Wornstaff, superintendent, International School Ho Chi Minh City; and Gerald Edmonds, director of SUPA.