SU Among 17 Academic Institutions Invited to Create International Filmmaking Academy in Italy
VPA's Owen Shapiro appointed vice president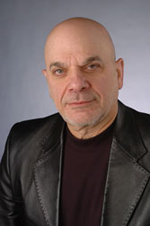 The College of Visual and Performing Arts (VPA) was among 17 international academic institutions invited to create an international filmmaking academy in Bologna, Italy. Representatives from the academic institutions met in December at the invitation of famed Italian film producer and director Gian Vittorio Baldi, originator of the concept of the academy, for the purpose of developing the structure for the new, nonprofit organization, which was founded under the requirements of Italian law.
SU was represented by Owen Shapiro, Shaffer Professor of Film in VPA's Department of Transmedia and the founder and artistic director of the Syracuse International Film Festival.
The International Filmmaking Academy's mission is to bring together advanced international film students, graduate and post-graduate, to work with some of the world's leading filmmaking professionals for a series of intensive master class workshops. Each participating institution will select students to attend the academy sessions each year. The academy plans to begin workshops in Bologna this summer.
Baldi will serve as the academy's president, and Shapiro was appointed vice president.
In addition to SU, the founding academic institutions of the academy include the São Paulo Film School, Brazil; RITS, Belgium; Concordia University, Canada; Hong Kong Academy for Performing Arts' School of Film and Television, China; FAMU, the Film and Television School of Academy of Performing Arts, Czech Republic; ENS Louis-Lumière's National Film, Photography & Sound Engineering School, France; the Berlin Film Academy, Germany; Huston School of Film & Digital Media, Ireland; Tel Aviv University, Israel; University of Bologna and the Bologna Cineteca, Italy; Lisbon Film School, Portugal; Moscow International Film School, Russia; Johannesburg Film School, South Africa; Yong In University, South Korea; Valand Academy, Sweden; and London Film Academy, United Kingdom.
Shapiro has made more than 30 films and a dozen videos on a wide range of subjects that explore the boundaries between documentary and fiction. His many honors and awards include the first-ever Mario Dall'Argine Award from the San Giò Verona Video Festival in Italy (2011). In 1976, he was honored by Henri Langlois with a retrospective, "Homage: Owen Shapiro," at the Cinémathèque Française in Paris. His films have been in festivals in Edinburgh, Athens, Hong Kong, Israel, England, Germany, France and throughout the U.S. In 1987 he was honored with a Fulbright fellowship to be a guest professor at Tel Aviv University. He is co-writer of the recent feature film "Session," directed by Haim Bouzaglo.