Campus & Community
Staff 2 Staff Online Registration Open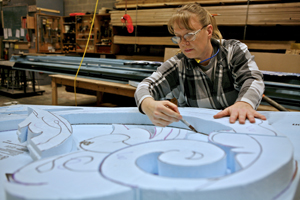 Registration for the spring Staff 2 Staff series is now open online. Staff 2 Staff is a brown bag lunch program for Syracuse University faculty and staff featuring casual, informative sessions designed to enhance one's professional and/or personal life. All sessions begin at noon and end by 1:30 p.m. unless otherwise specified.
The series begins in late February with a tour, talk, and student performances at Setnor Auditorium on Feb. 28; an overview of the Student Affairs 2013 Alcohol Poisoning Campaign on March 4; a Syracuse Stage sets and props presentation on March 7; and a workshop on digital camera basics on March 13. The series continues into May with sessions on everything from investing, pain management and the benefits of using social media. New this semester are several Monday health and wellness sessions at which a healthy lunch will be provided courtesy of Healthy Monday Syracuse, including "Finding Credible Health Information on the Internet" (March 18) and "Shop Healthy on a Budget" (April 15).
You can find the complete list of spring Staff 2 Staff sessions and register online through the Human Resources website at humanresources.syr.edu/staff/nbu_staff/s2s.html. Registration is required for all sessions, and those at which lunch is served tend to fill up fast.
For more information, visit the website or call Susan Torrell-Szarek at 443-2099 or email learn@syr.edu.