Ronald L. Caravan to Present Setnor Faculty Recital Feb. 17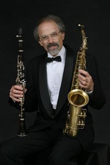 Ronald L. Caravan, an instructor of music in the Rose, Jules R. and Stanford S. Setnor School of Music in the College of Visual and Performing Arts (VPA), will present a clarinet and saxophone recital on Sunday, Feb. 17, at 2 p.m. in the Rose and Jules R. Setnor Auditorium, Crouse College. The recital is free and open to the public.
The program will feature works by Malcolm Arnold and Arne Running (for clarinet), Antonio Vivaldi (adapted for the soprano saxophone in C) and Hans Brehme's historic sonata for alto saxophone and piano. Sar-Shalom Strong will appear on piano.
Caravan, who has been on the Setnor faculty since 1980, has broad experience as a solo and chamber music recitalist as well as a clinician. As a composer, he has numerous works published for clarinet and saxophone and is particularly well known for his music and teaching materials dealing with unconventional sound resources on single-reed instruments. He also developed and markets Caravan Mouthpieces for clarinet and saxophone, a line of mouthpieces designed for symphonic-style applications that have achieved considerable popularity among advanced students and professionals throughout the United States as well as internationally.
Free and accessible parking for the recital is available in the Q-1 lot; additional parking is available in the Irving Garage. Campus parking availability is subject to change; call 315-443-2191 for current information or more information about the recital.