Resolving Conflict and Rebuilding Lives in Darfur

A region scarred by civil violence and a resulting humanitarian crisis over the past decade, Darfur in western Sudan still struggles to reach peace between the government and rebel factions. Its citizens, however, are not waiting to start rebuilding their lives and communities.
Anthropology Associate Professor A.H. Peter Castro glimpsed their determination while training a group of community leaders in natural resource conflict management in Central Darfur. "People are very eager to get back to their lives. They are trying to reoccupy land and re-establish communities and strengthen the way they manage natural resources," he says.
Castro, who conducted the week-long training in August, was brought on as consultant and lead trainer as part of the Near East Foundation's (NEF) Resources, Economic Security and Peace (RESP) project in Darfur. He also helped develop a training manual, in collaboration with the NEF, Zalingei University Center for Peace and Development and NEF's local nongovernmental organization partners (NGOs), which will impact an estimated 180,000 people.
Castro, an associate of the Program for the Advancement of Research on Collaboration and Conflict (PARCC) in the Maxwell School, spoke earlier this month as part of PARCC's Conversations in Conflict Studies Series. He was joined by NEF Darfur program manager Mohamed Dahia, who worked with Castro.
In Darfur, as communities look to rebuild after years of instability, conflict has erupted over land use and other issues between farmers and herders. The NEF training, which will be adapted on local levels, focuses on such issues as leadership, gender awareness, collaboration and negotiation to help communities resettle lands and resolve conflict over land and water resources.
"In the past people had ways of resolving these conflicts, but due to changes in governments many of the customary mechanisms have been eliminated," Castro says. "They have traditions of mediation but this training gives them techniques, procedures and tools. This project of the Near East Foundation is one of first to be doing this kind of work."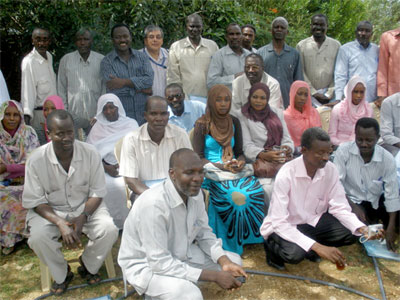 The civil war began in 2003 as opposition groups within Darfur launched military campaigns against the Khartoum government in the East African nation. Tens of thousands of people are believed to have died in the conflict and more than  1 million people have been displaced, many living in camps, according to United Nations reports. There have been recent peace agreements between the government and rebel groups, but insecurity and violence remain.
For Castro, the process of getting clearances to work in Darfur was complex and lengthy, while travel required helicopter rides due to bad roads and security concerns. Castro, who stayed in a World Food Program guest facility and met with many local dignitaries, was often accompanied by armed police.
To help with early recovery in the region, the United Nations and other agencies dedicated funds for rebuilding. With funding from the U.N. Development Program's Darfur Community Peace and Stability Fund, the NEF organized the Zalingei Training of Trainers Workshop and initiated the development of the manual. The NEF, which has operations in several nations and has worked in the Sudan for decades, is based in the United States at Syracuse University.
Castro was tapped for his expertise in the field, which includes work on natural resource conflicts with the U.S. Agency for International Development and the U.N.'s Food and Agriculture Organization (FAO), and field work in Ethiopia, Somalia and Kenya. Among his published works, he recently co-edited "Climate Change and Threatened Communities: Vulnerability, Capacity and Action" (Practical Action, 2012). He also co-authored "Climate Change and the Future of Onion and Potato Production in West Darfur, Sudan: A Case Study of Zalingei Locality" with Yassir Hassan Satti, from the University of Zalingei.
During the Darfur training, Castro led about 30 individuals in various team building exercises, field work assignments and roleplaying. "Some of the best conflict management techniques that we teach at Maxwell are not just saying compromise but understanding the other group's needs and finding areas of mutual interest and collaboration," Castro says. "It's based on mutual respect."
For the NEF, the training program meets the key goals of peace building and improving people's livelihoods. "This is one of the things we've dreamed of for a long time—to have a long-term project in Darfur," Dahia said. "Most of the theories of this program are based on the participation of local people in the project—a bottom-up approach."
Their efforts were reflected in an anecdote from village leader Omda Mahmoud, of Radom, who participated in the training. After a dispute between farmers and nomadic camel herders, whose animals had damaged some farm plots, Mahmoud negotiated a deal that herders pay compensation and agree to only travel through the area in February during the off-season.
"I am very grateful for those who delivered the leadership workshop, because I have really benefited so much from this workshop in dealing with this issue," Mahmoud told NEF officials. "I do recommend the organization [NEF] to cover as wider areas and villages in Darfur as possible, as we do need these kinds of workshops on leadership and natural resources badly."