Arts & Culture
Razor-Sharp Wit in 'Top Girls' Examines Costs of Success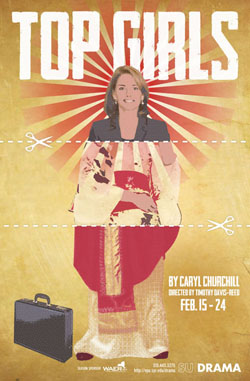 A skeptical and comic look at the role of women in contemporary society, "Top Girls" flashes with Caryl Churchill's razor-sharp wit and ingenious theatricality. Set in the early days of Margaret Thatcher's England, the play follows two sisters: hard-nosed, successful businesswoman Marlene, and Joyce, who has stayed true to their working class background in rural Suffolk. It famously opens with Marlene's fantastic dinner party, celebrating her promotion with women from myth and history. As the action swings from a smart London women's employment agency to a cottage in rural East Anglia, "Top Girls" considers the personal sacrifices and compromises women must endure in the pursuit of "success."
Written by Caryl Churchill and directed by SU Drama professor Timothy Davis-Reed, "Top Girls" is presented by the Department of Drama in the College of Visual and Performing Arts, Feb. 15—24 in the Storch Theatre at 820 E. Genesee St. Tickets are $16-$18, available at 315-443-3275 or by visiting http://vpa.syr.edu/drama. SU Drama's season sponsor is WAER 88.3.
Playwright Churchill has said that she wanted "Top Girls" "to start out looking like a feminist play and turn into a socialist one." What she intended to do "was make it first look as though it was celebrating the achievements of women, and then—by showing the main character, Marlene, being successful in a very competitive, destructive, capitalist way—ask, what kind of achievement is that?"
"'Top Girls' demonstrates that even when you're happy with your choices, they always come with a cost," says Davis-Reed. Given that the play offers a specific perspective on the progression of the women's movement, Davis-Reed notes, "it's a particularly appropriate play to revisit with young women actors, as they are on the cusp of addressing these things in their adult lives."
In the telling of "Top Girls," Churchill employs various dramaturgical devices—a mixing of fantasy and reality, non-linear construction, and the use of overlapping dialogue. These devices are signature components of Churchill's body of work, helping to solidify her reputation as a theatrical innovator.
"These dramaturgical devices can be a challenge to tackle," says Davis-Reed, who shares that "in this production, projections will be used to help guide the audience through different places and times."
Churchill's mix of reality and fantasy is most apparent in the first scene of "Top Girls," where a celebratory dinner party is attended by women from history, art and literature. Guests include Pope Joan (who, legend has it, disguised herself as a man and served as pope from 854 to 856), Isabella Bird (a world traveler and writer from the mid-1950s), Dull Gret (a character based on the subject of a 16th-century painting by Pieter Breugel), Lady Nijo (a 13th=century Japanese mistress turned Buddhist nun) and Patient Griselda (the wife from "The Clerk's Tale" in Geoffrey Chaucer's "Canterbury Tales").