Raymond Carver Reading Series to Feature Award-Winning Novelist Justin Torres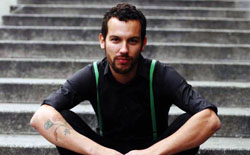 The Spring 2013 Raymond Carver Reading Series continues with novelist Justin Torres, author of the critically acclaimed "We the Animals" (Houghton Mifflin Harcourt, 2011) at 5:30 p.m. Wednesday, Feb. 27, in Gifford Auditorium. The reading will be preceded by a question-and-answer session from 3:45-4:30 p.m.
The event is free and open to the public. Parking is available in SU's paid lots.
Writing for Esquire, Benjamin Percy hailed "We the Animals" as "the best book you will read this fall" when the novel debuted in September  2011. "'We the Animals,' a slim novel—just 144 pages—about three brothers, half white, half Puerto Rican, scrambling their way thorough a dysfunctional childhood, is the kind of book that makes a career," Percy wrote. According to the publisher, "this beautiful novel reinvents the coming-of-age story in a way that is sly and punch-in-the-stomach powerful."  The New York Times described the work as "an affecting story of love, loss and irreversible trauma that a single event can bring to a family."
"We the Animals" was nominated for an NAACP Image Award for outstanding literary work by a debut author, was a finalist for a Publishing Triangle Award, won an Adult Debut Honor Award in the Indies Choice Book Awards and has been translated into a dozen languages. Torres is the recipient of the 2012 VCU Cabell First Novelist Award and the National Book Foundation "5 Under 35" award. His work has appeared in The New Yorker, Granta, Tin House, Glimmer Train and other publications.
A graduate of the Iowa Writers' Workshop, Torres received the Rolón United States Artist Fellowship in Literature and a Wallace Stegner Fellowship at Stanford University. He is currently a fellow at the Radcliffe Institute for Advanced Study at Harvard University. He has worked as a farmhand, a dog walker, a creative writing teacher and a bookseller.
Spring 2013 Series Schedule
The series will continue with the following authors. Further information is available by calling 315-443-2174.
March 20: Sarah C. Harwell, author of "Sit Down Traveler" (Antilever Press, 2012) and associate director of SU's Creative Writing Program
April 3: Dean Young, author of "Bender, New and Selected Poems" (Canyon Press, 2012), named "Best of 2012" by the Los Angeles Times
April 24: Diane Williams, award-winning short-story teller and author of seven works of fiction, including "Vicky Swanky Is a Beauty" (McSweeney's, 2012)