Q&A with Writing Professor and 'Tenth of December' Author George Saunders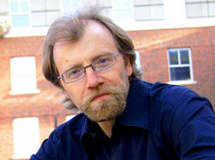 George Saunders, professor in the creative writing program, answers a few questions about the release of his most recent book of short stories, "Tenth of December," which was called by the New York Times magazine "The Best Book You'll Read This Year."
Q: Over the past month or so, you seem to have been everywhere—on the cover of the New York Times magazine, on the Colbert Report, etc. What has this ride been like for you?
A: Well, it's actually been just plain fun. The most interesting part for me is how much extra energy it takes to keep up with the pace of the touring and so on. But I'm just trying to enjoy it while it lasts—but am also, of course, looking forward to some calm and some family and writing time, and to get back to teaching in the fall.
Q: The last time I looked, "Tenth of December" was #5 on the Amazon.com bestsellers list, in between "Proof of Heaven" and the "Shred Revolutionary Diet." Does that surprise you for a book of short stories?
A: Surprise is too mild a word. I can't quite process it. But that very generous piece in the New York Times magazine by Joel Lovell sort of shot it out of a cannon. I also, of course, wish I had added that extra story, called "How to Diet in a Revolutionary Way in Heaven." I think that might have pushed me over the top.
Q: Writing is one thing. Promoting your work is something else. Is this a part of your job that you enjoy, or a necessary evil?
A: I like it. Well, I am trying to like it. Trying to see it as a chance to meet a lot of nice people and practice being nice in return, and not getting stupidly pissy about how "hard" it is to go around being praised.
Q: Yet another aspect of your work is teaching young writers. What can they learn from someone like you?
A: God knows. The students we get are already great. But I think what an MFA program can do is urge the young writer up into a zone where she starts doing what ONLY she can do. That is—take a talented person and try to get her to develop what we might call "the talent for having talent."
Q: In turn, what do you learn from your students, and from your readers?
A: The students constantly re-energize my love for literature and renew my faith in young people. From readers—especially now that I am getting a chance to meet a lot of them face-to-face—I get a nice feeling of reassurance that some of what I am doing is "landing" in a way that is giving someone some pleasure.