STEM
PRIDE Coordinates Playful Challenges for National Engineers Week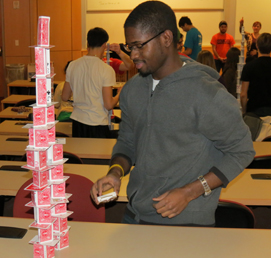 Programs Rooted in Developing Excellence (PRIDE) in the L.C. Smith College of Engineering and Computer Science (LCS) coordinates an annual celebration of National Engineers Week, which brings the members of the college together and introduces the campus community to the field of engineering.
E-Week was founded in 1951 by the National Society of Professional Engineers. The overall purpose of E-Week is to raise public understanding and appreciation of engineers' contributions to society.
As part of E-Week, PRIDE facilitates the LCS Olympics, where students form teams and compete against each other in a series of problem-solving, hands-on design and physical challenges. This event allows LCS students to engage with each other in both social and academic ways by providing an opportunity to interact on a variety of levels.
There is a series of activities scheduled for the week of Feb. 18 in which the campus community is welcome to participate.  No prior engineering knowledge is needed to participate and these events are designed to be fun, social activities that engage engineering students with non-engineering students and introduce non-engineering participants to basic and complex engineering concepts found in everyday life.
The schedule is as follows (all events will be held in Link 369):
Monday, Feb. 18
9 a.m.-4:30 p.m.: oSTEM Tables in the Link Hall Lobby
oSTEM-SU is the SU chapter of Out in Science, Technology, Engineering and Math, a national society dedicated to educating and fostering leadership for LGBTQA communities in the STEM fields (www.ostem.org/). Stop by the table to learn more about the organization and how you might be able to get involved.
6:45 p.m.: ASCE hosts "Playing Card Towers"
ASCE-SU is the SU chapter of the American Society of Civil Engineers (www.asce.org/About-Civil-Engineering/). Participants will design and construct a tower using only a deck of regular playing cards.  ASCE will facilitate a discussion regarding civil engineering and structural design.
8 p.m.: EWB hosts "Geography Bee"
EWB-SU is the SU chapter of Engineers Without Borders-USA.  EWB-USA supports community-driven development programs worldwide by collaborating with local partners to design and implement sustainable engineering projects (www.ewb-usa.org/).  The SU chapter of EWB recently completed a project at an orphanage in Kenya and is working on establishing a new project in South America.  Come test your geography knowledge with EWB's Geography Bee and learn more about the organization.
Tuesday, Feb. 19
8 p.m.: NSBE hosts a Bottle Geek Challenge
NSBE-SU is the SU chapter of the National Society of Black Engineers, which strives "to increase the number of culturally responsible black engineers who excel academically, succeed professionally and positively impact the community." (www.nsbe.org/).  One of NSBE's goals this semester is to introduce the campus community to the various fields of engineering.  This particular activity incorporates concepts from electrical and mechanical engineering. Participants will design a car using a water bottle and small motor.  (The week following E-Week has been named "NSBE Week" and more opportunities to learn about the various fields of engineering will be scheduled).
Wednesday, Feb. 20
9 a.m.-4:30 p.m.: Formula SAE Tables in the Link Lobby
Learn about Formula SAE, hear about its current project of designing a formula-style race car to take to competition this summer and donate to the project by purchasing vouchers for Pole Position Raceway at Destiny USA (students.sae.org/).
Thursday, Feb. 21
5:30 p.m.: AOE and Theta Tau host a Rube Goldberg Challenge
AOE is an international engineering sorority and Theta Tau is a national engineering fraternity.  Participants in this activity will work together to design a device that will flip a switch.