'Peace' Captured By Study Abroad Student in Cathedral Window in Spain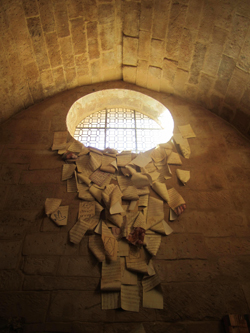 Last semester, the 2012-13 Remembrance Scholars collaborated with the SU Abroad office to sponsor a photo contest that encouraged study abroad students to photograph the Remembrance dove and/or other landscapes and objects that represent meaningful places for "peace" in unique and creative ways around the world.
"The goal of this photo contest was to get abroad students thinking about what peace means to them, while also bringing awareness about the Pan Am Flight 103 tragedy and the Remembrance Scholarship," says Remembrance Scholar Alaina Mallette.
Katrina Keegan, a senior pre-med student majoring in biology and psychology in The College of Arts and Sciences, submitted the winning entry, "Salamanca Dove." Keegan photographed a cathedral window in Spain, and added the iconic image of the dove to the sheets of music that surrounded the window to make it a Remembrance tribute.
"I spent last semester in Madrid, and it was truly one of the greatest experiences of my life. I have always loved the tradition of the Remembrance Scholars," Keegan says. "During my flight home at the end of my semester abroad, I found myself thinking a lot about the Pan Am 103 tragedy and how important it is to remember those who lost their lives."
"My photograph is of a cathedral window in Salamanca, Spain. This scene resonated with me as an image of peace and hope," she says.
In sponsoring the contest, the current scholars wanted to connect with study abroad students, as the 35 students lost on Pan Am 103 were study abroad students themselves. "This photo contest is one way of remembering them and 'acting forward.'"
Keegan's winning photo will be on display in the Schine Atrium on Wednesday, Feb. 13, from 10 a.m. to 3 p.m. as part of SU Abroad's Study Abroad Day.