Palitz Gallery Presents 40 Artists/40 Years Opening Feb. 18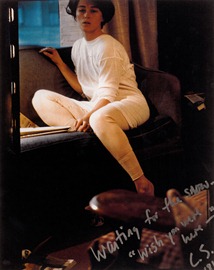 The Palitz Gallery at Lubin House has announced its latest exhibition, "40 Artists/40 Years," which spotlights the photography of the Light Work Collection in Syracuse, now celebrating its 40th Anniversary. "40 Artists/40 Years" features a selection of photographs from the collection, including the work of Cindy Sherman (photo at left), Carrie Mae Weems, John Gossage, James Casebere, Jim Goldberg, Dawoud Bey, Fazal Sheikh and Hank Willis Thomas.
Light Work is a nonprofit, artist-run organization dedicated to the support of artists working in photography and electronic media.
The exhibition, which runs from Feb. 18-April 11, will be on display Monday through Friday 11 a.m.-6 p.m. and Saturday 11 a.m.-4 p.m. Learn more about this show and others by visiting lubinhouse.syr.edu. Call 212-826-0320 for more information. The gallery is located at the Joseph I. Lubin House, 11 East 61st Street, New York City.
The photographs in "40 Artists/40 Years" represent each year that Light Work has been supporting artists, says Jeffrey Hoone, executive director of Light Work and the exhibition curator. "The artists in this exhibition come from different backgrounds and express different points of view, but are bound together in the process of asking vital questions as they teach us, the viewers, how to see," he says.
"The artists on view stand in for the hundreds of other artists who have participated in our artist-in-residence, exhibition, publishing and grant programs," says Hoone, who points out that at the end of the day, it's the artists who have made Light Work possible, not the other way around.
"Light Work is, quite simply, the oldest continuously operating organization and institution of its kind," says Bey, renowned photographer and former artist-in-residence. "I and so many other photographic artists were supported at a pivotal and early stage of our careers. Through the residency and support that so many of us had at Light Work, we forever became members of a community of support that endures to this day."
Light Work was the first artist residency for Thomas. "It's the place where I began "Unbranded: Reflections in Black by Corporate America (2005-2008)," one of my most successful projects to date," Thomas says. "While in residence, I met so many great artists whom I continue to maintain relationships with. I am so happy to have been part of it!"
Hoone says that Light Work supports artists because their courage, their struggle, their creativity and their passion give purpose and often make viewers whole. "The work in this exhibition represents that process and celebrates all the artists that have made our effort worthwhile," says Hoone.
Working in the media of photography and digital imaging since 1973 Light Work has always been an alternative arts organization run by artists and that has made it a uniquely positioned institution. "We concentrate on supporting emerging and under-recognized artists, giving them the opportunity to create new work," says Hoone. "then making that work part of the ongoing dialogue about contemporary art."