Ocean Rower Roz Savage to Kick Off Spring 2013 University Lectures Series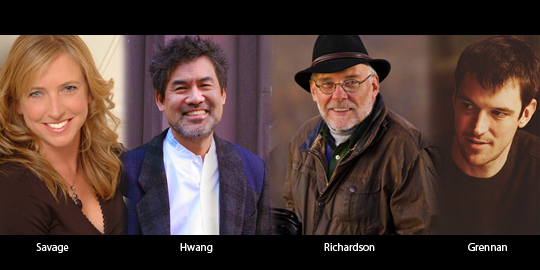 Ocean rower, adventurer and environmental ambassador Roz Savage is one of four distinguished guests who will share their diverse global experiences and perspectives with the Syracuse University and Central New York communities as part of the Spring 2013 University Lectures season. Savage will speak on Wednesday, Feb. 27.
Additionally this season, dates have been changed for Next Generation Nepal founder Conor Grennan (now Tuesday, March 5) and award-winning playwright and screenwriter David Henry Hwang (now Thursday, April 4). National Geographic photographer Jim Richardson will speak on Tuesday, March 19.
Also, a screening of the award-winning documentary "Chasing Ice," chronicling the work of past University Lecturer James Balog to document the effect of climate change on the world's glaciers, will take place on Tuesday, April 16.
Each event will begin at 7:30 p.m. in Hendricks Chapel and is free and open to the public. Reduced-rate parking is available in the Irving Garage. American Sign Language (ASL) interpretation and CART are available at all lectures.
Savage will speak on "The Human Condition: An Ocean Rower's Perspective," and will share photographs from her adventures. The lecture is sponsored in cooperation with the Department of Sport Management in the David B. Falk College of Sport and Human Dynamics.
The ocean has forced Savage to develop courage, tenacity, perseverance and the strength to transcend self-imposed limits. In her lecture, she will share her insights on life purpose, motivation, spirituality and sustainability.
The 2010 National Geographic Adventurer of the Year, Savage holds four world records for ocean rowing, including one as the first woman to row three oceans: the Atlantic, Pacific and Indian. She has rowed more than 15,000 miles, has taken around 5 million oar strokes and spent cumulatively more than 500 days of her life at sea, alone in a 23-foot rowboat.
Savage uses her ocean rowing adventures to inspire action on the top environmental challenges facing the world today. A latecomer to the life of adventure, Savage worked as a management consultant in London for 11 years. Since embarking on her first solo ocean adventure in 2005, she has braved 20-foot waves, capsized three times in 24 hours and faced death by dehydration when both of her water makers broke. She has encountered whales, dolphins, sharks and turtles, and admired the timeless beauty of sunrises, sunsets and star-filled night skies. Savage has spoken across six continents.
She is a United Nations Climate Hero, an Athlete Ambassador for 350.org and an ambassador for the Blue Project. In 2011, she received the Ocean Inspiration Through Adventure award. She is the author of "Rowing The Atlantic: Lessons Learned on the Open Ocean" (Simon & Schuster, 2010). A documentary based on her Atlantic row has toured the world as a finalist in the Banff Mountain Film Festival.
The Office of University Lectures welcomes suggestions for future speakers. To recommend a speaker, or to obtain additional information about the University Lectures series, contact Esther Gray in the Office of Academic Affairs at 443-2941 or eegray@syr.edu.