Newhouse Grad Student Gets Chance to Intern for Charles Barkley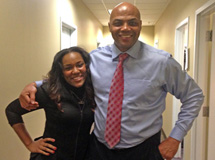 It took over 20 years, but this year, Alison Chaney, a graduate public relations student at the S.I. Newhouse School of Public Communications, learned that even the craziest dreams come true. A longtime basketball player and huge fan of the sport, Chaney won an online contest to intern for renowned ex-NBA player Charles Barkley. The contest was held via the social media website Tout.com. As the selected winner, Chaney had the opportunity to help out with Barkley's "Inside the NBA" television show on TNT. Chaney even traveled to Atlanta, where she had previously completed her undergraduate degree at Spelman College.
Chaney heard of the contest when it was announced on Barkley's show. For her submission, Chaney submitted a video—and she rapped in it. "My mom is the one that suggested [I rap in it]," Chaney says.
Chaney, originally from Minneapolis, interned for two days, Jan. 31 and Feb. 7. In addition to being on Barkley's show, where she drove a Segway for the first time, Chaney blogged for CharlesBarkley.com and Tweeted for the program, using the Twitter handle @NBAonTNT. Even though she admits to being nervous at first, for Chaney the internship was beyond anything she could have imagined. She had to learn how to be a professional rather than just a fan. Chaney not only met Barkley, one of her favorite basketball players since high school, but she also got to know former NBA star Shaquille O'Neal, now also an analyst on the show. "[We] actually had quite a dynamic," Chaney says of O'Neal.
Although Chaney had interned with the Washington Mystics and Wizards before, her experience at "Inside the NBA" is unmatched. "I had never experienced such a work environment," she says, "But it was clear to me that this environment was successful. Everyone knew everyone's name, from the on-air TV analyst to the part time production assistant."
In Atlanta, it wasn't all work and no play. When she was instructed to teach Barkley Spanish, Chaney tricked him with a joke. "He asked me to teach him 'Charles Barkley is very handsome and Charles Barkley is very skinny.' Well, what I actually taught him in Spanish was 'Charles Barkley is very ugly and Charles Barkley is very fat,'" she says.
Chaney says that she probably had the most fun with O'Neal, who taught her to drive the Segway. "Shaq and I are both sarcastic and like to laugh, which was fun and put me at ease," she says. "He made me comfortable."
Fortunately, it seems that Chaney made as big of an impression on the "Inside the NBA" staff as they did on her. She even prepared an early birthday present for Barkley. "He had no idea I was getting him one! I got him an Auburn University golf set and he loved it," she explains. "What actually touched me is that Charles took the time to read the card I wrote for him, in front of me. After he read it he grabbed my hand and told me, 'Thank you.' I literally had to fight back tears. It was a very special and genuine moment. I was floored."