Campus & Community
New Interactive Storytelling Mobile App Focuses on Winter in Central New York
Created by students in SU's Newhouse School, CNY32 degrees is available for free download on iTunes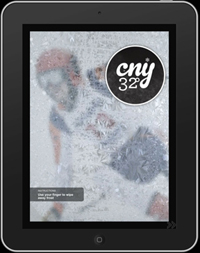 Early last year, a dozen students in the S.I. Newhouse School of Public Communications set out to create an interactive storytelling mobile tablet application that would focus on Central New York's notorious winters. The result, CNY32 degrees, is now available for free download from the iTunes store.
Famous for frigid temperatures and record-breaking snowfalls, Central New York (CNY) averages 116.9 inches of snow annually. The winter of 2011 saw more than 179 inches of snow. But when the students—as part of Newhouse's Multimedia Projects course—started their work last year, they were faced with one of the mildest CNY winters on record, providing them with an extra challenge as they attempted to tell what they thought would be a story about snow.
"The obvious story topics, like skiing, snowshoeing, sledding and ice fishing weren't going to happen," says Melia Robinson, a senior magazine major who worked on the project. "Fortunately, with the low-hanging fruit out of reach, we were forced to get creative. We asked ourselves, what are the fresh stories we should be doing?"
Student Katrina Tulloch visited Lake Placid's Olympic training center, riding a bobsled with a camera strapped to her helmet. Steve Bottari and Harrison Kramer discovered geocaching. Robinson profiled a Mansville, N.Y., woman whose business, HandCandy Mittens, recycles ugly sweaters. "It was by far my favorite assignment of the semester," says Robinson. "I spent an afternoon in her home, and created a feature package that included an article, a two-minute, character-driven video, a panorama of her work space and 360-degree images of the mittens, which linked to the items in her online store."
The students also created a series of stories capturing "a day in the life" of Toggenburg Mountain Winter Sports Center in Fabius, N.Y.
"The whole semester we were crossing our fingers, hoping for snow, but the final product was far more innovative than we could've imagined," says Robinson.
Seth Gitner, assistant professor of newspaper and online journalism, who taught the class, also arranged for a group of alumni to work one-on-one with the students, who shot, edited and finalized their stories in a single weekend.